State disaster exercise tests emergency response capabilities

Send a link to a friend
Mass evacuation and sheltering preparedness tested on Friday
[AUG. 5, 2006] METRO EAST -- Illinois' ability to evacuate large numbers of people and provide adequate shelter for evacuees was put to the test Friday as the state began a large-scale emergency response exercise in the Metro East area. Last fall, Gov. Rod R. Blagojevich directed the state to conduct a mass evacuation and sheltering exercise after preparedness plans in the Gulf Coast failed to safeguard people in the wake of Hurricane Katrina.
"Hurricane Katrina taught us an important lesson -- we need to make sure we're able to evacuate and shelter thousands of people if widespread disaster ever hits here in Illinois," Blagojevich said. "But, it's not enough just to craft a plan on paper; you have to put those plans to the test. This exercise will teach us what we do well and what part of our plan needs work, so if disaster strikes, we're ready."

The exercise scenario got under way early Friday morning with local emergency response agencies receiving notification of a simulated explosion at the Triple Crown facility in Edwardsville, involving a hazardous materials release. As the situation escalated, local responders requested assistance from the state to support ongoing efforts with evacuation and mass sheltering efforts. In response, the State Emergency Operations Center in Springfield was activated to coordinate state assistance to local response organizations. The state dispatched staff and equipment to the scene, including a new Unified Area Command vehicle, which provides meeting space, office equipment and communications capability to facilitate coordination between multiple emergency response organizations at a disaster scene.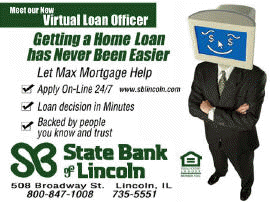 Liberty Middle School in Edwardsville is serving as the mass shelter location. Volunteers posing as evacuees arrived by car and bus throughout the day and were assisted by representatives from the American Red Cross. The mock evacuees were registered at the shelter and were offered food and provided personal care items, such as toothbrushes and toothpaste. The shelter will also have nurses and mental health professionals available. It was expected that up to 1,000 "evacuees" would be processed at the facility on Friday.
In addition, the state's Illinois Medical Emergency Response Team set up an alternate treatment facility on the grounds of Liberty Middle School to augment local medical capacity during the simulated crisis. IMERT, a volunteer organization of doctors, nurses, paramedics and other medical personnel, is trained and equipped to respond to and assist with emergency medical treatment at mass casualty incidents. Following Hurricane Katrina, Blagojevich sent 50 IMERT members to Baton Rouge, La., where they helped establish a field hospital and attended to thousands of evacuees from the hurricane-ravaged Gulf Coast.
While responders deal with Friday's simulated emergency situation, other components of the exercise scenario will begin unfolding that will lead into activities Monday and Tuesday.
The Metro East exercise, known as "Prairie Thunder," is the state's second significant emergency response exercise within the past three months. In May, the state conducted a three-day exercise that tested Illinois' ability to respond to simultaneous major emergencies, which included a pandemic flu outbreak and a terrorist attack in the Chicago metropolitan area. More than 1,000 participants from federal, state and local agencies are involved in the Prairie Thunder exercise.
[News release from the governor's office]