Lincoln Daily News publishes letters to the editor as they are received.
The letters are not edited in content and do not necessarily reflect
the views of Lincoln Daily News.
Lincoln Daily News requests that writers responding to controversial issues address the issue and refrain from personal attacks. Thank you!
.
You may also send your letters by e-mail to ldneditor@lincolndailynews.com
or by U.S. postal mail:
Letters to the Editor
Lincoln Daily News
601 Keokuk St.
Lincoln, IL 62656
Letters must include the writer's name, telephone number, and postal address or e-mail address (we will not publish address or phone number information). Lincoln Daily News reserves the right to edit letters to reduce their size or to correct obvious errors. Lincoln Daily News reserves the right to reject any letter for any reason. Lincoln Daily News will publish as many acceptable letters as space allows.
To the editor:

We stopped in Lincoln, Ill., recently on our way back from southern Illinois to West Burlington, Iowa. We just want to say that you should be very proud of your town.

We stayed overnight, and the next morning we drove around and took pictures of your "Lincoln" sites, your architecture, downtown, etc. We stopped at the farmers market, we ate at the Arcade restaurant and shopped at the Mustard Moon.

Everyone was so friendly -- from the manager of the motel, the people at the farmers market, the man in the restaurant who got up and gave us his booth to sit in while he went to the counter to sit, the waitresses, and the proprietors of the Mustard Moon. We have traveled quite a bit, and we have found out that you just don't get treated like that everywhere you go.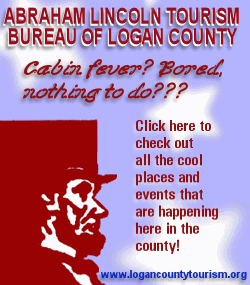 We just felt we had to write and tell you what a good impression your town made on us, and if we are that way again, we will certainly stop and visit.
Mervin and Barbara Smith
West Burlington, Iowa
(Posted Aug. 7, 2006)