Lincoln Daily News publishes letters to the editor as they are received.
The letters are not edited in content and do not necessarily reflect
the views of Lincoln Daily News.
Lincoln Daily News requests that writers responding to controversial issues address the issue and refrain from personal attacks. Thank you!
.
You may also send your letters by e-mail to ldneditor@lincolndailynews.com
or by U.S. postal mail:
Letters to the Editor
Lincoln Daily News
601 Keokuk St.
Lincoln, IL 62656
Letters must include the writer's name, telephone number, and postal address or e-mail address (we will not publish address or phone number information). Lincoln Daily News reserves the right to edit letters to reduce their size or to correct obvious errors. Lincoln Daily News reserves the right to reject any letter for any reason. Lincoln Daily News will publish as many acceptable letters as space allows.
To the editor:

Once again the sesquicentennial committee of First Baptist Church of Lincoln would like to say thank you to the many wonderful people of Lincoln and the surrounding areas.

We recently held a Community Family Fun Day at Ralph Gale Field for all children and families in the area that would like to come and have fun at our "inflatable" carnival, enjoy the games that were provided with prizes, pet the many animals of the petting zoo, tour the Safe House and watch the canine demonstration, and fill their tummies with hot dogs and soda. It was a beautiful day, the sun was quite hot, but everyone really had a good time. We estimated that we had about 225 kids and parents attend; all had good comments about the event and thought it was fun!

It gave us great pleasure to be able to provide this for our community... but, we could never have done this without all the help of local businesses. First of all we would not have been able to do this without the use of Ralph Gale Field. Thank you, Lincoln Junior High and all those involved with getting the field ready. We want to say thank you to the Lincoln Fire Department for providing the Safe House; the Logan County Sheriff's Department for the canine demonstration; Lincoln IGA, which is always so helpful and cooperative; Guzzardo's Italian Villa for many, many buckets of ice; and to Hardee's for coming to our rescue on Saturday night with ice that we needed then. A big thanks to Pepsi for donating all the soda and water and a trailer to serve it from, and to Kevin Ritchhart for bringing out his animals on such a hot day. Again the media of Lincoln (Lincoln Daily News.com, Channel 5 and The Courier) came through for us with free advertising. And last, but not least, a huge thanks to our own church members who gave up a Sunday afternoon to help with the rides, games and food.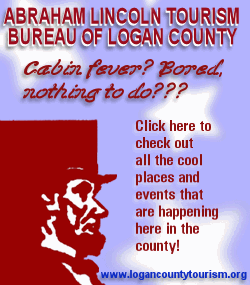 It was a very enjoyable day for all! It is just great to know there are so many good-hearted people in Lincoln and the surrounding areas who are willing to participate, donate and cooperate.
Thanks to all who were involved in any way who helped us have another sesquicentennial event that was so successful.
Our sesquicentennial year is not over yet. Watch for our next event soon! Thank you, and God bless all of you.
Donna Buse, secretary of the committee
Jim DeWitt, chairman
Members: Joyce Seelye, Sandy Taylor, Linda Trommer and Pastor Robert Henderson
(Posted Aug. 11, 2006)
Click here to send a note to the editor about this letter.