Lincoln Daily News
welcomes letters of appreciation, information and opinion on matters pertaining to the community.
As a community we need to be able to talk openly about matters that affect the quality of our lives. The most effective and least offensive manner to get your point across is to stick to the issue and refrain from commenting on another person's opinion. Letters that deviate from focusing on the issue may be rejected or edited and marked as such.
.
You may also send your letters by e-mail to ldneditor@lincolndailynews.com
or by U.S. postal mail:
Letters to the Editor
Lincoln Daily News
601 Keokuk St.
Lincoln, IL 62656
Letters must include the writer's name, telephone number, and postal address or e-mail address (we will not publish address or phone number information). Lincoln Daily News reserves the right to edit letters to reduce their size or to correct obvious errors. Lincoln Daily News reserves the right to reject any letter for any reason. Lincoln Daily News will publish as many acceptable letters as space allows.
To the editor:

The Christmas season is in full gear, and we at the Logan County Senior Issues Task Force want to make sure our senior citizens and everyone else have a safe and wonderful holiday. Senior citizens are often the target of criminals of all types. Here are some safety tips to remember as you go shopping this year:

1. If at all possible, don't carry a purse. Keep cash and credit cards in an inside pocket or fanny pack worn to the front. Thieves don't like having to work too hard and risk detection. If you do carry a purse, keep it in front of your body. Don't open it until you are in the checkout line ready with your purchase. NEVER leave your bag in your cart unattended.

2. Shop in groups. Thieves prefer those who shop alone. There is safety in numbers, so shop with friends or family if at all possible.

3. Stay in the light. Always park your car in well-lit areas near the stores where you are shopping. Don't park next to vehicles taller than yours. Criminals use them as cover in order to commit their crimes.

[to top of second column in this letter]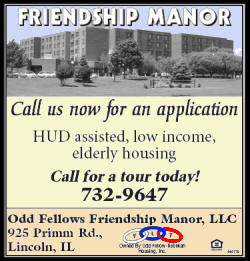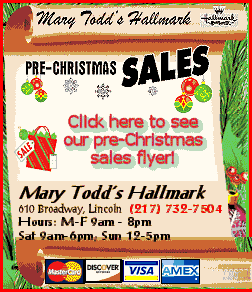 4. Have your keys in your hand before you leave the store for your car. If you're fumbling for keys, you are distracted and therefore a target!
5. Lock all of your purchases or any other valuables in your trunk.
6. If you are in a minor car accident, stay in your car with the doors locked until authorities arrive. Some criminals are known to use "bump and rob" schemes to steal your valuables.
There are many other tips for holiday safety available to all of us. The best of all is to be alert! Think like a criminal, and then take appropriate steps NOT to be the victim.
On behalf of the Logan County Senior Task Force, have a safe and happy holiday season!
Julie King, chairperson
Senior Issues Task Force
(Posted Dec. 15, 2006)