Dan Fulscher, director of the Logan County Emergency Management Agency, opened the conference by saying that we have been lucky enough in Logan County not only to get 911 and then e-mapping, but now we'll be able to get computer-aided dispatch, the next high-tech system that citizens of Logan County not only need but should have. We have been financially unable to do that until today, Fulscher said. Congressman LaHood is helping us take that next step, ensuring that not only people who live in Logan County, but also those that pass through will be safe, he said.

In his opening remarks LaHood said that it was more than a year ago when he had the chance to tour the communications center and talk with the people that work there. "I can tell you all it takes is one visit there to realize that the system needed to be upgraded," he said.

It's very important that all the law enforcement personnel, all the first responders, all the public safety people communicate with one another, the congressman said. There are times that simply cannot happen. Then you consider the fact that very near here you have a very busy interstate that's also patrolled by state police, and you know that there's a lot of activity all up and down that interstate. It creates a lot of opportunity for communications between law enforcement doing their jobs and dealing with accidents. You have to have good communications, he said.

"It was clear that the request for the emergency communications upgrade that was being made to me by the Logan County law enforcement, E-911 and public safety management individuals was needed," he said.

The congressman said that it is his position on the appropriations committee that allowed him the opportunity to look for resources to secure these funds. "Communities like Logan County simply don't have the kind of money to upgrade a system like that," he said.

The entire project, which is slated to take place in several phases over the next few years, is estimated to cost over $1 million.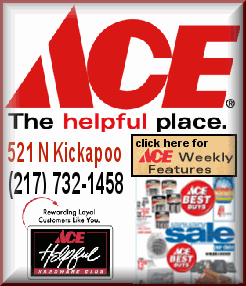 The congressman said he made a request to the Department of State Justice. "We were able to get $250,000," he said, "but that's the start. That's a big commitment on behalf of the federal government." It will also take local resources, but he hopes to be able to add to it over the next couple of years, he said.
The congressman said he was delighted to present the $250,000 to the Logan County public safety officials, "Obviously you can't do these things without good leadership in the county," he said.
Bill Sahs, vice chairman of the Logan County Board, said, "This is really a great day." He thanked Fulscher and LaHood for the opportunity to update the 1978 equipment.
County board member Dick Logan was also recognized for his years of involvement and advice in seeking these funds. "Whenever we call on congressman LaHood, he comes forward and he does whatever it takes," Logan said. "He's helped on our Logan County Airport projects, our Fifth Street Road project and numerous other road projects. When we ask, at least he listens. Thank you."
Sheriff Steve Nichols recounted the discussions that began three years ago that led to this day. It began with Fulscher's recommendation to reorganize the communications room and bring it to a unified command. Next was to update the equipment. This is a great start, he said.
"This will also help us with communications with our deputies out on the road," Nichols said. "It will help with the dead spots [places that can't get signal]. It will take care of public safety in a better way."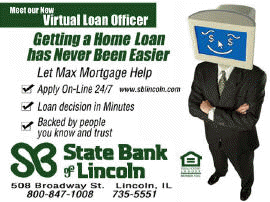 Other officials who were present at the presentation were James Davis, fire chief for the city of Lincoln; Dean Kuckuk, Lincoln Rural fire chief; and Dewey Colter, Logan County coordinator.