Lincoln Daily News publishes letters to the editor as they are received.
The letters are not edited in content and do not necessarily reflect
the views of Lincoln Daily News.
Lincoln Daily News requests that writers responding to controversial issues address the issue and refrain from personal attacks. Thank you!
.
You may also send your letters by e-mail to ldneditor@lincolndailynews.com
or by U.S. postal mail:
Letters to the Editor
Lincoln Daily News
601 Keokuk St.
Lincoln, IL 62656
Letters must include the writer's name, telephone number, and postal address or e-mail address (we will not publish address or phone number information). Lincoln Daily News reserves the right to edit letters to reduce their size or to correct obvious errors. Lincoln Daily News reserves the right to reject any letter for any reason. Lincoln Daily News will publish as many acceptable letters as space allows.
To the editor:

As a former Lincoln resident, I read with interest your Jan. 25 "44th District weekly update." I certainly hope that this was only read by former Lincolnites and not by those who may read this as news and not as a very biased opinion. I am certain that Sen. Bradley* had very different opinions back when Illinois had Republican governors, even though the state was in much worse shape than it is in currently.

I would suggest that either this column be written by a neutral person or include a response by the "loyal opposition" of the elected senator from Lincoln's districts.

[to top of second column in this letter]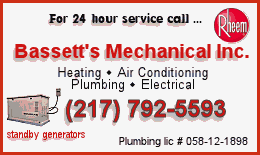 The people in Lincoln are very intelligent; therefore, Lincoln's citizens need to hear both sides of the story. Then, and only then, will they have the opportunity to make informed decisions.
Thank you,
Bob Mielke
Spring Hill, Fla.
(*Senator's name spelled as received)
(Posted Jan. 28, 2006)