City to move on immediate fix for Fifth Street Road

Send a link to a friend
[JULY 27, 2006] Concerns over the poor condition of Fifth Street and how long it will be before it is fully renovated has led city leaders to opt for a more immediate solution. Streets chairman Buzz Busby opened by saying, "As you know, Hanson's have said that it will take a year to a year and a half to get the engineering study done on Fifth Street Road. It also takes about that long to look for grants." He added, "And we are working very diligently on that."
In the interim, we're talking three to five years before anything gets started on Fifth Street, he said. He said he consulted with city engineer Mark Mathon and Tracy Jackson, the streets superintendent, about the possibility of getting something done.

The city purchased a new road stripper, "the Zipper," last year. It is used to grind the roadbed and then re-lays it as a base to be chipped and oiled. The cost would not be too extensive, and it would be a quick, short-term solution.

Busby said he suggested to Tracy and Mark that since we have the Zipper, we do the area that is the worst, at least from the bowling alley to Connolley Road. There is a county section after that and it is not too bad anyway, Busby said.

Busby asked if it could possibly be done before school begins. Mathon said he would get bids ready to let right away.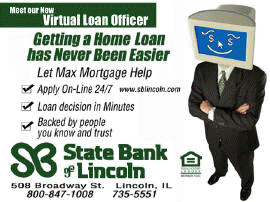 However, Jackson said that, typically, seal coating doesn't get done until September. He would try to be ready for the end of August.
A committee meeting to discuss it was set for Aug. 7. It will then go to vote on Aug. 15.
Alderman Prather emphasized that the city is not just patching the road. They are still committed to do the major renovation that is planned for the road. "This is temporary, to take care of the bad situation right now."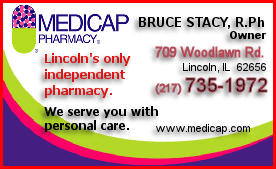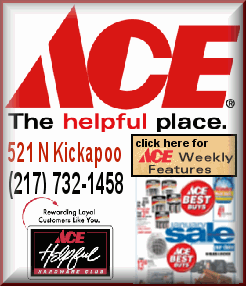 The roadway from Lincoln Parkway to Interstate 55 was maintained mostly by the county several years ago, but as subdivisions and businesses have annexed into the city, it now has only a small portion that is county responsibility.
The city and the county are committed to work together on the section from the parkway to I-55. A federal grant that came through will be used to update the engineering plans that Hanson made about five years ago.
Plans include widening the road, adding turn lanes at Lincoln Parkway and possibly including a trail beside it.
The roadway is important to a number of residences and businesses to the west of Lincoln and to the potential development of more businesses and homes. It also provides access to Woodlawn Road, an area that is expanding in business.
Previous articles