When an old female bald eagle found herself blind in one eye and her sight failing in the other, her life became a struggle. On the ground in Garrett, west of Tuscola, she was helpless, unable to find food, weak and starving. An Amish family spotted the bird in their pasture and invited a neighbor to look at the bird they found. The neighbor, Cynthia Appleby, assessed the situation and immediately phoned the Illinois Raptor Center.

Jacques Nuzzo, program director at the center, was about to leave work for the day but stopped short of going out the door to answer one last phone call. Because bald eagles are not all that common in the area, Nuzzo was unconvinced that the caller had actually found a bald eagle. But Appleby was insisting that her description was accurate, so Nuzzo threw a pair of heavy gloves, a large net and raptor equipment -- hood and wing restraint -- into the center's Jeep Liberty and headed toward Garrett.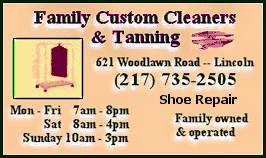 To Nuzzo's surprise, there in the pasture stood a very, very large bald eagle. The size of the bird indicated that it was a female. Getting closer to the bird, he could see that one eye was hazed over. He could walk toward her on that side and she could not see him. Turning her head, however, she caught sight of him and launched herself into the sky with her huge wings. She flew up and away about 300 feet, circling to the right before crashing to the ground.
As Nuzzo approached her again, she flew up and tried landing in a tree, only to fall through the branches to the ground. Nuzzo quickly seized the bird's moment of confusion and netted her as gently as he could. She knew the chase was over. She surrendered. Proudly and bravely she accepted whatever fate she was now to endure.
Nuzzo restrained the huge bird with the raptor equipment and thanked the people who had cared enough about the bird to make the call to help her. A crowd had gathered to watch the rescue, and Nuzzo spent a few moments educating people about eagles and their natural history. The Amish family had named her Ruby, and the name fit her perfectly. She was truly precious. With Ruby now secure in the raptor equipment, Nuzzo headed back to Decatur.
Many other birds come through the door of the Illinois Raptor Center, but none as large and majestic as the bald eagle. Directors of the center feel it is truly an honor to help these birds, a symbol of our nation, which are protected not only by state and federal laws covering all native wildlife, but by special laws that protect eagles, their nests and their habitat.
Ruby is a survivor. She must have seen so much in her long life. Eagles can live to nearly 25 years or more in the wild, and Ruby is an old bird. She must have flown up and down the Mississippi and the Illinois River countless times. She has seen years of habitat change, habitat loss, progress and increasing human civilization. She has undoubtedly been mother to dozens of eagle chicks. She may have even outlived several mates. She survived for months after being blinded in an eye. But Ruby's long life and good fortune in the wild have come to an end.
Ruby figured out quickly that if she is to survive, she has to adapt to being fed by people, adapt to being handled by people and adapt to being around people. Ruby is a very smart bird. She swiftly picked up on the fact that Nuzzo had food and food meant life. It took very little coaxing to get Ruby to eat. She never panicked. Even with failing vision, she saw that the center was there to help her.
The U.S. Fish and Wildlife Service Migratory Bird Permit Office in Fort Snelling, Minn., under the Department of the Interior, must be notified within 48 hours of admitting a federally endangered species or an eagle to any wildlife rehabilitation facility in the Great Lakes Region. After making that call, Nuzzo made an appointment with a veterinarian who specializes in avian care, Dr. Ken Welle of All Animals Pet Clinic in Champaign.
Ruby made the trip to Champaign in a carrier -- not in raptor equipment this time. She rode very well. During the exam, she behaved extremely well; she never stressed. After she was returned to the carrier she was rewarded with a treat and ate it eagerly. Most birds don't think of eating after such an ordeal, but Ruby is a real trooper.
During Welle's exam he found that Ruby was thin. Normally a large female bald eagle can weigh 13 to 14 pounds. Ruby weighed 10 pounds. The right eye showed a partially detached retina, and the left eye showed a completely detached retina. Partial vision was present in the right eye, but Ruby is completely blind in the left. Iris atrophy suggested advanced age. Otherwise, Ruby had no other abnormalities. However, Ruby's days in the wild are gone forever. She will need long-term care and a permanent home.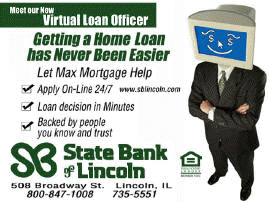 Returning to Decatur, Nuzzo quickly put the wheels of the government in motion for Ruby. With another phone call to the federal permit office, Nuzzo began the paperwork process to request that Ruby be added to the Illinois Raptor Center's permit for live eagle exhibition, to enable Ruby to live out her life at the center. On Tuesday, the center received the signed, dated and stamped document giving approval of that request. Ruby is now a wildlife ambassador for the Illinois Raptor Center.
Ruby's care is now up to Nuzzo and Jane Seitz, executive director. Nuzzo and Seitz care for nearly two dozen nonreleasable birds of prey at the present time. Included are hawks, falcons, owls, eagles and a turkey vulture. A 1-year-old male bald eagle called Kenny, from Minnesota, is blind in one eye. Phoenix, a female golden eagle from South Dakota, is a wing amputee and has lived at the center for 10 years. In addition, the center recently received permission to give another eagle a permanent home. A male golden eagle found near Yellowstone Park has arthritis and shrapnel from a possible gun shot embedded in its wings and will be making his home at the Decatur facility. The bird was scheduled to be sent to Bloomington on Delta Air Lines for pickup on Friday.

The eagles and other permanent education raptors at the Illinois Raptor Center can be seen by the public in presentations given at events such as Eagle Day celebrations at Havana, Meredosia and Starved Rock, as well as other presentations throughout the year. Ruby will be part of the Raptor Camp for children 11-14 during the last week in June (see announcement below).
The Illinois Raptor Center has the largest traveling live raptor conservation program in Illinois. The center gave 73 outreach programs in 2005, reaching over 13,000 people. Staff members travel the state, and also Indiana and Iowa, educating people about habitat, natural history and how to live with our wildlife neighbors. This year the center has built a new outdoor education pavilion and will be able to schedule on-site programs for the first time. The facility has been at its present location since 1994.
The Illinois Raptor Center, a private nonprofit organization, gives care to orphaned and injured birds of prey and songbirds at its facility west of Decatur, hoping to return them to the wild. Several permanent resident birds serve as surrogate parents to orphans. The organization is funded only by donations from individuals, businesses and fees from education programs.
Food and care for Ruby, like for each of the other raptors, both permanent and in rehabilitation, will cost hundreds of dollars a year. The cost for food is presently $1,000 per month and will go up with the addition of two more eagles. The center now needs to build additional caging and is planning a new eagle complex at a cost of $12,000 to house the four permanent resident eagles.
The center is calling on the generosity of the community and surrounding areas to help Ruby and the other birds by donating to the "Saving Ruby Fund."
Donations may be sent to Illinois Raptor Center, 5695 W. Hill Road, Decatur, IL 62522.
[Jane Seitz, Illinois Raptor Center]
For more information, visit www.illinoisraptorcenter.org.
* * *
Registration is open to children ages 11 thru 14 for Raptor Camp at the Illinois Raptor Center. The camp will be June 26-30, from 9 a.m. to noon each day, in the new outdoor classroom pavilion at the center.
Each day of camp will feature a different family of raptors up close and personal through live birds of prey -- hawks, falcons, owls, eagles and vultures. Participants will learn about natural history, rehabilitation, habitat and falconry. The last day of camp, participants will present a program for their family and friends, using live raptors.
The cost of $75 per child includes T-shirt, materials, snacks and an experience of a lifetime. Registration is limited to 20 participants and ends June 16.
To register call (217) 963-6909.
[Illinois Raptor Center news release]