Plans build toward blowout Abraham Lincoln 200th birthday celebration

Send a link to a friend
[MARCH 27, 2006] Paul Gleason, chairman of the Logan County Board's tourism committee, said that plans are falling into place for some big celebrations of Abraham Lincoln's 200th birthday.
Locally, the Lincoln Heritage Days, which is celebrated annually with Fourth of July festivities, is building toward a big celebration of Abraham Lincoln's 200th birthday in 2009. This year's celebration is set to begin on July 1. Several days of activities are being planned to run through July 4 in hopes of drawing people in from around the county.

A special storytelling and activities about Abraham Lincoln's life in Kentucky and Indiana is planned at the Lincoln Public Library on July 1 for 5- to 12-year-olds.

The national celebration will take place over a three-year period. The kickoff begins in Kentucky in 2008. The big bash will be at the Lincoln Memorial in 2009. And Springfield will probably host the post-celebration in 2010 at the Lincoln Home, the presidential library and museum, and the tomb.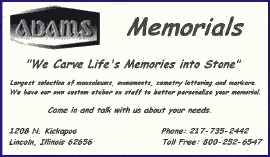 I think this county is really blessed to have four people on the national advisory committee -- Lincoln College President Hutchinson, Paul Beaver, Lincoln College Museum curator Ron Keller and himself -- Gleason said.
There's been a lot of talk in the last few years to increase tourism, and this is how you increase tourism: by getting people involved, things that will get people to come in, he said.
Every little bit of exposure to Abraham Lincoln helps. Gleason said they are looking for ideas for the 2009 big bash in Lincoln. If anyone has any ideas, just jot them down. I don't care how big it is, (hesitation) maybe other than the big old statue, he said.