Wind advisory
Send a link to a friend
10:49 a.m. announcement
[MARCH 31, 2006] A deep low-pressure system over the upper Midwest is bringing strong winds across central Illinois. The National Weather Service in Lincoln has issued a wind advisory in effect until 7 this evening (Friday).
The wind advisory is for the counties of Knox, Stark, Peoria, Marshall, Woodford, Fulton, Tazewell, McLean, Schuyler, Mason, Logan, DeWitt, Piatt, Champaign, Vermilion, Cass, Menard, Scott, Morgan, Sangamon and Macon, including the cities of Galesburg, Peoria, Bloomington, Normal, Havana, Lincoln, Champaign, Urbana, Danville, Jacksonville, Springfield and Decatur.

A tightening pressure gradient is bringing blustery winds in excess of 30 mph to parts of central Illinois today and gusts up to 45 mph. Winds are expected to remain gusty throughout the day, eventually falling below wind advisory criteria this evening.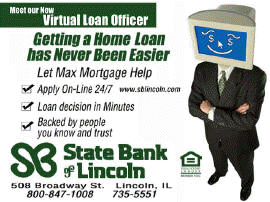 A wind advisory means that sustained winds of 30 mph are expected, with gusts to 45 mph. Winds this strong can make driving difficult, especially for high-profile vehicles. Use extra caution.
[News release from The Emergency Email Network]
For reference