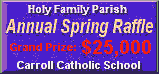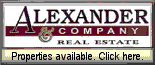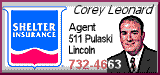 Church Directory

---
---

---
---
---
---
Contact us
---
LDN is best viewed with
IE 6 or Firefox 1.x.

---
LDN awards
Local:
Dec. 16, 2001
Local Emergency Planning Committee
Jan. 25, 2001
Logan County Healthy Communities Partnership
State:
Oct. 1, 2001
Illinois Public Health Association
posted daily OVER THE NOON HOUR

NEW FEATURE: LDN DAILY SUDOKU. Click here!

Students took part in Ag Education Day held at Lincoln Christian College and Seminary.
Here, Steve Irwin of Beason had his dairy calf on hand for the students to view and pet.
[picture by Jan Youngquist] click on picture for larger image
See complete article and more pictures below in Today's Top Stories


Submit a classified ad online [Lowest cost for advertising in the county!]
\Community

The Sports Page


County briefs

Severe weather possible

IDOT partners with the University of Illinois to celebrate the 50th anniversary of the interstate system

Tougher penalties for police impersonation win final legislative approval; Gov. Blagojevich pledges to sign
Legislation would increase jail time for police impersonation, create new offense for impersonation while carrying a deadly weapon, and broaden definition of peace officer to include local, state and federal officials

Immigration solution

Washington-Monroe honor roll
Third nine weeks

14 individuals named as IESA Scholar Attitude Award winners

Soldier's invention on display at the Smithsonian Institution

Asperger Syndrome Support & Awareness of C.I. (autistic spectrum disorder) meets

Illinois' Brown, Augustine and Weber participate in Final Four events