Lincoln Daily News publishes letters to the editor as they are received.
The letters are not edited in content and do not necessarily reflect
the views of Lincoln Daily News.
Lincoln Daily News requests that writers responding to controversial issues address the issue and refrain from personal attacks. Thank you!
.
You may also send your letters by e-mail to ldneditor@lincolndailynews.com
or by U.S. postal mail:
Letters to the Editor
Lincoln Daily News
601 Keokuk St.
Lincoln, IL 62656
Letters must include the writer's name, telephone number, and postal address or e-mail address (we will not publish address or phone number information). Lincoln Daily News reserves the right to edit letters to reduce their size or to correct obvious errors. Lincoln Daily News reserves the right to reject any letter for any reason. Lincoln Daily News will publish as many acceptable letters as space allows.
To the editor:

The Sesquicentennial Committee of First Baptist Church of Lincoln would like to THANK the many wonderful and generous people of Lincoln and the surrounding areas.

We recently had a pancake and sausage breakfast to "kick off" our 150th anniversary of the church. The fundraiser was most successful because of the generous donations of many people and businesses. We would like to thank Lincoln IGA, Wilbur Paulus for the pig for our fresh sausage, Krogers, Tim Neitzel for his time and pancake cooker, Hicksgas for letting us borrow their wonderful grill to cook the sausage, the Atlanta Locker, and the many free advertisements from LincolnDailyNews.com, Channel 5, The Courier, Graue Inc., Mitchell-Newhouse Lumber Co. and Pepsi for the huge signs they gave us. People of Lincoln should definitely appreciate all the good things and especially the donations from our many businesses in Lincoln.

[to top of second column in this letter]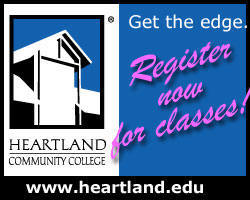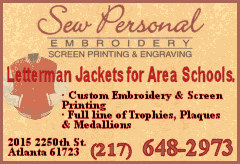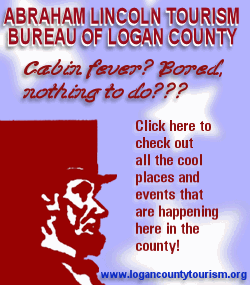 And last but not least, all the people who joined us for breakfast on Saturday, April 22, at First Baptist Church of Lincoln.
The committee and congregation would just like to say, "THANK YOU, EVERYONE!"
We just hope and pray that all of you will look forward and participate in the future events of our 150th anniversary celebration (1856-2006). Thank you and God bless all of you.
Donna Buse, secretary of the committee
Jim DeWitt, chairman
Members: Joyce Seelye, Victoria Baker, Sandy Taylor and Pastor Robert Henderson
(Posted May 9, 2006)
Click here to send a note to the editor about this letter.