Alexander Lumber Company employees score a day off and recognition for yearlong performance

Send a link to a friend
[MAY 11, 2006] Alexander Lumber Co. in Lincoln is the winner of the 23rd annual Inventory Checkout Award. This is the first time that the Lincoln yard has won this award.
There are 43 different locations that Alexander Lumber Co. has in operation that qualified for this award. Alexander Lumber Co. has been in operation since 1891, and has been in Lincoln since January 1901.

The award is based on keeping track of losses and incoming and outgoing goods for an entire year. The inventory counts at the end of the year must be within a margin of error from where they began.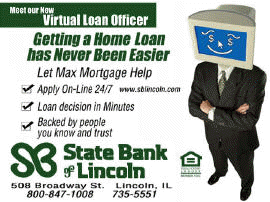 The following individuals all contributed to the excellent 2005 checkout and all received a day off with pay and a $50 gift certificate:
Steve Fuhrer, manager

John Barnard, bookkeeper and inside sales

Terry Spangler, inside sales

Tim Kerns, yard and inside sales

Rick Anderson, yard foreman

Ron Armour, yard and driver

Darrell Vancleve, yard and driver