Mark G. Pate, 51, of Lincoln was driving a 1985 truck-tractor pulling a dump trailer loaded with scrap metal. For unknown reasons, prior to merging from Interstate 55 southbound, Pate drove onto the left shoulder and began to lose control of the vehicle.

The tractor-trailer unit tipped over onto its driver's side as it entered the northbound lanes of Interstate 155. The entire load of scrap metal being hauled was spilled onto both lanes of Interstate 155. Both northbound lanes of I-155 were closed for cleanup for approximately two hours.

Pate refused medical treatment.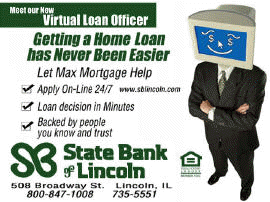 The accident scene was attended by Illinois State Police, Illinois Department of Transportation, Logan County Sheriff's Department and Lincoln Rural Fire Department.
The investigation regarding this crash is being conducted by the Illinois State Police.
[Illinois State Police release; LDN]