That's right, it's a firetruck. Lincoln Rural Fire Department has a new one that is getting lavished with care this week. The New York-made Saulsbury pumper and rescue vehicle arrived on Wednesday morning, and by Wednesday afternoon nearly every member of the team had had their hands on it, according to Chief Dean Kukuck.

The firemen turned out in full force to start the hands-on cleaning and get-acquainted process moment the truck arrived. The rescue-pumper vehicle isn't brand-new; it is about 11 years old. It was transported here from California.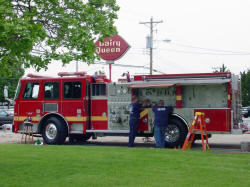 The new truck has a greater pump capacity than the primary truck and has seven hose leads that can be controlled for either pounds per square inch or revolutions per minute. It is thought to be the largest pump in the county, capable of 2,000 gallons per minute.
The truck can haul 500-gallons water. Their other truck that will remain as their primary vehicle has a 1,000-gallon capacity.
The truck will be equipped with accident extrication equipment and will thereby serve as the department's second primary vehicle, Kukuck said. It also offers seating for four to six passengers in the cab.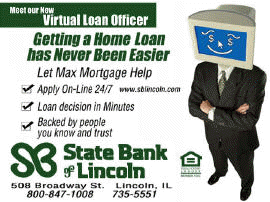 The department just received confirmation from U.S. Rep. Ray LaHood on Friday that they are the recipient of a federal Homeland Security grant for $17,914 to purchase emergency extraction equipment. The new equipment will go on this truck. [Related article]
The truck is a little longer and wider than any other vehicle in the department, and the extension in front of the front wheels is different than on the primary pumper truck. Firemen will be taking turns getting it out on the road for an hour to get acquainted with its different dimensions, Kukuck said.
The funds used to purchase the truck were gifted to the department through an estate, with specific instruction for "rescue-oriented" use. The department was happy that a local man (his name was withheld) that they helped a few years ago had thought to remember them with the gift, Kukuck said.