Paul Jones

Send a link to a friend
LINCOLN -- Paul Leo Jones, 82, of Lincoln died Saturday, May 27, 2006, at 8:25 p.m. at St. Clara's Manor.
Visitation will be from 5 to 7 p.m. Tuesday at Fricke-Calvert-Schrader Funeral Home in Lincoln. His funeral will be at 10:30 a.m. Wednesday at the funeral home, with Tim Searby officiating.
Burial, with military rites, will be in Zion Cemetery.
Mr. Jones was a florist and owned Jones Floral Shop in Springfield until 1983.
He was a U.S. Army veteran of World War II and served in the Philippines.
He was born Aug. 10, 1923, in Lincoln to Harry and Alice Allen Jones. He married Lois Eileen Huser in 1944 at Fort Smith, Ark.
He is survived by his wife, of Lincoln; one son, Raymond "Huey" (and Cheryl) Jones of Atlanta; one sister, Ruth Helen Donath of Storm Lake, Iowa; three grandchildren; and eight great-grandchildren.
One brother and one sister preceded him in death.
He was a member of Lincoln Christian Church, VFW Post 1756 and American Legion Post 263.
Memorials may be made to St. Clara's Manor.
Click here to send a note of condolence to the Jones family.
---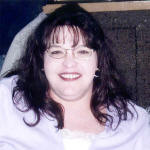 Angelia Sympson

Send a link to a friend
ATLANTA -- Angelia "Angie" Sympson, 34, of Atlanta, died Saturday, May 27, 2006, at 3:40 p.m. at Abraham Lincoln Memorial Hospital in Lincoln.
Visitation will be from 5 to 8 p.m. Wednesday at Quiram Funeral Home.
Her funeral will be at 10:30 a.m. Thursday at the Atlanta United Methodist Church. The Rev. Steve Anderson will officiate.
Burial will be in Atlanta Cemetery.
She worked at Phanny's in Atlanta.
She was born June 4, 1971, in Normal to Eddie and Sandra Walters Sympson.
She is survived by her parents, of Atlanta; one daughter, Macey Sympson, at home; one brother, Steve Sympson of Pekin; one sister, Julie (and Bill) Oldham of Atlanta; her companion, Jesus Martinez of Atlanta; one niece; two nephews; one great-niece; and one step-great-niece.
She was an avid Illini and Houston Astros fan.
She enjoyed life to the fullest. She will be greatly missed by all her family and friends.
Memorial contributions may be made to the family. A memorial account for Macey Sympson will be established at the Atlanta National Bank.