House approves agriculture funding bill
Includes funds for conservation programs, ag research center, University of Illinois

Send a link to a friend
[MAY 30, 2006] WASHINGTON -- The U.S. House of Representatives on May 23 overwhelmingly approved the fiscal 2007 appropriations bill for the Department of Agriculture by a vote of 378-46. The bill contains $18.4 billion in discretionary spending and $76 billion in mandatory spending. The bill now heads to the Senate for consideration.
The projects listed below are contained in the legislation and were requested by U.S. Rep. Ray LaHood, R-Peoria, Ill.

National Center for Agricultural Utilization Research, Peoria
$843,339 reprogramming request
$500,000 for biofuels research
Biotechnology Research and Development Corporation, Peoria
$100,000 increase over fiscal 2006 funding (total of $3,717,000 for fiscal 2007)
University of Illinois
$865,000 for Livestock Genome Sequencing Initiative

$1,126,000 for Soybean Disease Biotechnology Center

$706,000 for Future Foods Initiative

$1,270,000 for Illinois-Missouri Biotechnology Alliance

$600,000 for Illinois Rivers 2020 from Environmental Quality Incentives Program

$100,000 for Illinois Trees Forever from Natural Resources Conservation Service

$500,000 for a joint project with the Illinois and Missouri Corn Growers associations for Product Verification Protocols Pilot from Grain, Inspection, Packers and Stockyards Administration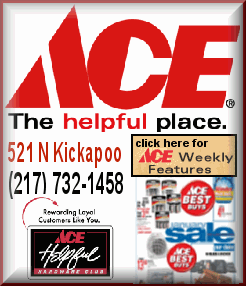 The following projects were included as projects identified for potential funding under Rural Development, but funding levels were not contained in the legislation.
Peoria County, Ill., to expand water treatment facilities

Midwest Emergency Department Services for a rural telemedicine program

Illinois office of USDA's Rural Development to complete a statewide rural water map
[News release from Rep. Ray LaHood,
18th Congressional District]