Lincoln Daily News
welcomes letters of appreciation, information and opinion on matters pertaining to the community.
As a community we need to be able to talk openly about matters that affect the quality of our lives. The most effective and least offensive manner to get your point across is to stick to the issue and refrain from commenting on another person's opinion. Letters that deviate from focusing on the issue may be rejected or edited and marked as such.
.
You may also send your letters by e-mail to ldneditor@lincolndailynews.com
or by U.S. postal mail:
Letters to the Editor
Lincoln Daily News
601 Keokuk St.
Lincoln, IL 62656
Letters must include the writer's name, telephone number, and postal address or e-mail address (we will not publish address or phone number information). Lincoln Daily News reserves the right to edit letters to reduce their size or to correct obvious errors. Lincoln Daily News reserves the right to reject any letter for any reason. Lincoln Daily News will publish as many acceptable letters as space allows.
To the editor:

In many ways the events of Sept. 11, 2001, turned our world upside down. However, in at least one way, the tragic events of that day turned our view of the world right side up. Before 9-11 many Americans translated the word "hero" to include only people who were professional athletes, movie/television stars, politicians, and rap music stars. An upside-down view of the world for sure. As 9-11 occurred, we saw, right before our stunned eyes, who the real "heroes" were in our country. They were firefighters, paramedics, police officers, chaplains, military personnel and other ordinary people who ran into, instead of away from, buildings impaled with hijacked airplanes. America learned that day that real heroes don't have the seemingly unlimited funds, fancy vehicles and over-the-top "bling" that the people formerly known as heroes had. All the real heroes have are limited taxpayer funds, inadequate equipment and some of the most proud and brave people you could ever know. These heroes do their best with what the taxpayers provide (and don't provide) and risk their lives in the process.

[to top of second column in this letter]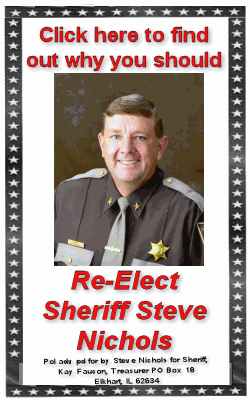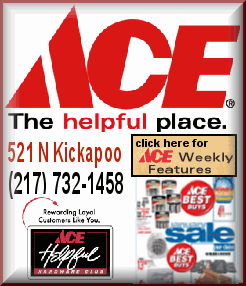 And while I know in my mind that no Lincoln, Ill., rural firefighter ran into a burning building in New York on that day, I know in my heart that the fine people who make up our Lincoln Rural Fire Department WOULD HAVE had they been on duty in New York that day. I also know that these Lincoln Rural firefighters DO run into burning homes and buildings in Logan County. They do respond when a tragic vehicle accident occurs. They do respond on other numerous occasions to protect and save the lives and property of the residents of this county. These local heroes DO respond to our needs.
It is now time for the people of Logan County to respond to these local heroes. Fortunately for us, we get to respond in a non-life-threatening way. We get to respond by voting "yes" on Nov. 7. We can respond to help them continue to do a great job of helping us. Let's help build this much-needed new firehouse for our local heroes. The (fire) house you build may save your own.
Rick L. Hobler
Rural Lincoln, Ill.
(Posted Nov. 1, 2006)