St. John UCC intern

Send a link to a friend
[NOV. 4, 2006] Joseph Feldmann, who has completed two years at Eden Theological Seminary in St. Louis, began work Sept. 5 as seminarian intern at St. John United Church of Christ in Lincoln.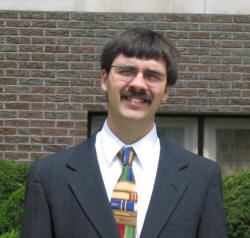 In this position Feldmann will work in all areas of church ministry. These include planning and leading worship services, making pastoral calls, and organizing special events. However, his areas of emphasis will be work with the youth program and development of a contemporary worship service.
Feldmann is two-thirds of the way through his course work toward a master's degree at Eden. In 2004 he earned a bachelor's degree in music education and theology, summa cum laude, at Elmhurst College in Elmhurst.
The new intern already has accumulated a variety of professional experiences in ministry. He has served a year as student pastor at Immanuel United Church of Christ in Ferguson, Mo., and a year as youth and music assistant at St. Paul United Church of Christ in Waterloo, Ill. In addition he has experience as a chaplain assistant at Alton Memorial Hospital in Alton and as a confirmation instructor and youth leader at St. Peter's United Church of Christ in Chicago. In 2004 he also served an internship with Hoyleton Youth and Family Services in the St. Louis area.
He said the Lincoln position differs from his previous ones in that it is full-time. In addition, it combines the breadth of his work in Ferguson with specific areas of responsibility, similar to the closely defined roles he held in Waterloo and Chicago.
What he hopes to gain from his time at St. John, besides the fulfilling experience of working with members of the church, is growth in his professional skills and a deeper sense of ministry on a full-time basis. In regard to working with the youth program he said, "I hope to help them grow, and I know they will help me grow."
With a strong background in music, Feldmann said he hopes to explore how he can incorporate music into the youth program and contemporary worship services. At Elmhurst he participated in the concert choir, chamber singers, vocal jazz ensemble and concert band. He said he is not sure how music will come into play in his eventual ministry but that he is sure it will be present in some form because of who he is.
Following his year in Lincoln, Feldmann plans to complete his final year at Eden Theological Seminary and to seek a call within the church.
[Article and picture provided by Lynn Spellman]
---