Lincoln Daily News
welcomes letters of appreciation, information and opinion on matters pertaining to the community.
As a community we need to be able to talk openly about matters that affect the quality of our lives. The most effective and least offensive manner to get your point across is to stick to the issue and refrain from commenting on another person's opinion. Letters that deviate from focusing on the issue may be rejected or edited and marked as such.
.
You may also send your letters by e-mail to ldneditor@lincolndailynews.com
or by U.S. postal mail:
Letters to the Editor
Lincoln Daily News
601 Keokuk St.
Lincoln, IL 62656
Letters must include the writer's name, telephone number, and postal address or e-mail address (we will not publish address or phone number information). Lincoln Daily News reserves the right to edit letters to reduce their size or to correct obvious errors. Lincoln Daily News reserves the right to reject any letter for any reason. Lincoln Daily News will publish as many acceptable letters as space allows.
To the editor:

The Abe Lincoln Disabled Children's Fundraiser would like to announce that we have reached our goal of $10,000 proceeds from the fundraiser that was held on Sept. 16. The grand total of $10,000 will be donated to the Charitable Trust of Lincoln Elks Lodge 914.

The fundraiser included 76 golfers that participated in our golf outing at the Elks, 84 motorcycles that participated in our 100-mile marble run through Logan County, and approximately 800 people that attended the performances of Still Kickin' and The Jane Doe Band behind Character's Pub and Alley-Bi Saloon.

This goal could not have been met without the support of our major sponsors, which include Millwrights Local 1051, Ra-Jac Distributing, Alley-Bi Saloon, Stuart Solutions, Investment Center, MII Fixture Group, Hooters, State Bank of Lincoln, Rock Solid Sound and Productions, Picture This Photography, Coca-Cola, Illini Bank, Regions Bank, Logan County Bank, Coy's Car Corner Inc. Superstore, City Beverage LLC, and Character's Pub.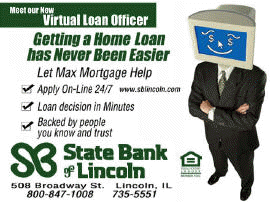 We would also like to thank the city of Lincoln, Phil and Becky Gehlbach, Terry Haseley, David Faith, Greg Bersch, Bill Best, Tiffany Koehne and the many others that volunteered their time in order to make the fundraiser such a huge success.
We look forward to seeing everyone at next year's event!
The board of directors of the ALDCF,
Steve Klemm
Doug DeMay
Sarah Stuart Faith
Peggy Haseley
(Posted Oct. 14, 2006)