Lincoln Daily News publishes letters to the editor as they are received.
The letters are not edited in content and do not necessarily reflect
the views of Lincoln Daily News.
Lincoln Daily News requests that writers responding to controversial issues address the issue and refrain from personal attacks. Thank you!
.
You may also send your letters by e-mail to ldneditor@lincolndailynews.com
or by U.S. postal mail:
Letters to the Editor
Lincoln Daily News
601 Keokuk St.
Lincoln, IL 62656
Letters must include the writer's name, telephone number, and postal address or e-mail address (we will not publish address or phone number information). Lincoln Daily News reserves the right to edit letters to reduce their size or to correct obvious errors. Lincoln Daily News reserves the right to reject any letter for any reason. Lincoln Daily News will publish as many acceptable letters as space allows.
Dear Editor:
As we celebrate Grandparents Day, I want like to thank those individuals who have taken on the extra responsibility of raising their grandchildren. There are more than 100,000 older people in the state of Illinois who are taking care of their family's children, while more than 200,000 children under the age of 18 are living in a grandparent-headed home.
Often, with compassion and great sacrifice, grandparents step outside of the traditional role and selflessly raise their grandchildren. These "silent saviors" may have few resources or family members for support. They may have retired early to care for their grandchildren or returned to work in order to support them. They may be in their 40s or their 80s. It can happen to anyone, at any time and for any reason.
[to top of second column in this letter]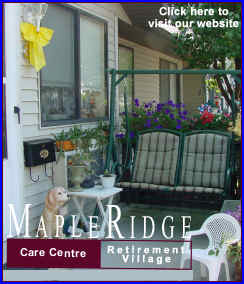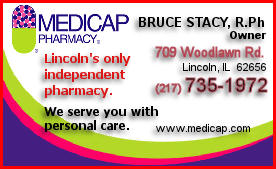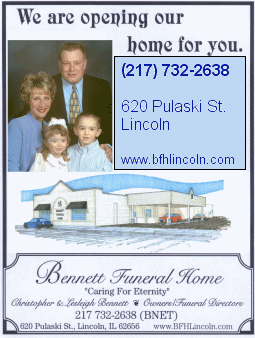 Thankfully, there are programs available to assist relatives raising children -- [programs] that are accessible through the Illinois Department on Aging. In fact, Gov. Rod Blagojevich doubled the Grandparents Raising Grandchildren program's funding this year. The program provides assistance with paying for emergency needs, utility bills, medications, food and clothing and offers referral services to local resources.
This Sunday, let's honor grandparents, whether they are traditional grandparents, long-distance grandparents or grandparents raising grandchildren. To show your appreciation, share the Illinois Department on Aging's Senior HelpLine toll-free number, 1-800-252-8966, with grandparents who are raising grandchildren, to make sure they are receiving the assistance and support they deserve.
Sincerely,
Charles D. Johnson
Director, Illinois Department on Aging
(Posted Sept. 9, 2006)