Link to community calendar compiled by
the Abraham Lincoln Tourism Bureau of Logan County:
---
Calendar listings below are based on announcements provided to Lincoln Daily News.
Please let us know about upcoming events. Thank you.
September | October | November | December
September 2006
---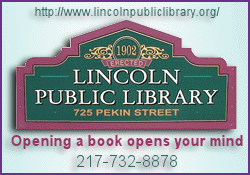 Thursday, Sept. 21
SPONSOR: Christian Village
WHO: Open to the public for friends, family and caregivers of people with Alzheimer's or other related dementias
WHAT: Free meeting of Alzheimer's and Related Dementia Support Group
Contact: Pam Mulford, 217-732-2189 or 217-732-5038
[See article.]
WHERE: Christian Village Senior Apartment Building, 1500 Seventh St.
WHEN: 6 pm
(Third Thursday monthly)
Saturday, Sept. 23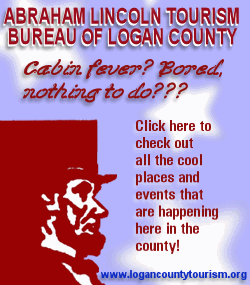 SPONSOR: Railsplitter Antique Auto Club
WHO: Public
WHAT: Car cruise-in
WHERE: Downtown Lincoln, on the square
WHEN: 5:30-9 pm
Sunday, Sept. 24
SPONSOR: Harvest of Talents for World Hunger
WHO: Public
WHAT: "Musical Offering for World Hunger"
Variety of vocal and instrumental music, with a special performance by Brian Yakey
Freewill offering for Harvest of Talents for World Hunger
WHERE: Lincoln Christian Church sanctuary, 204 N. McLean
Free parking; accessible facility
WHEN:
2:30
pm
Monday, Sept. 25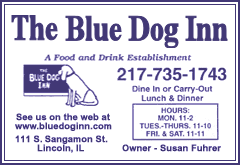 SPONSOR: Jefferson Street Christian Church
WHO: People who are separated or divorced
WHAT: DivorceCare session; weekly seminar and support group
Watch for more information in Lincoln Daily News.
WHERE: 1700 N. Jefferson St.
WHEN: 7-9 pm
Friday, Sept. 29
SPONSOR: Lincoln Community High School Band Boosters
WHO: Public
WHAT: Mum sale
Watch for more information in Lincoln Daily News.
WHERE: LCHS football field
WHEN: 5:30-9 pm