LCC to offer indoor soccer

Send a link to a friend
[SEPT. 29, 2006] With the completion of its new field house, Lincoln Christian College is proud to present the Youth Indoor Soccer League, the first indoor soccer league in Logan County. LCC is excited to be a part of this new endeavor in connecting with the community. With its central location, LCC will give the young people an opportunity to learn more about the great sport of indoor soccer without going far from home.
Leagues are being formed for youngsters age 3 through 18. All players will be divided into teams based on age and grade level for the 2006-07 school year.
The indoor league will kick off its first of three sessions in October and will run through March. All games will be played in the field house, located directly behind and connected to the Laughlin Center on the LCC campus. All games will be played on Saturdays or Sunday evening if needed.
The program is under the direction of Amy Brisbin, who has a bachelor's degree in kinesiology and health promotion, and Jason Mauhar, soccer coach at LCC. They will be assisted by volunteer parent coaches.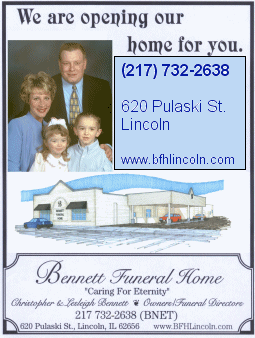 Sportsmanship and character development will be stressed, along with equal playing opportunity for all participants.
Registration is now open and will continue on a first-come, first-served basis until each age group is full. All participants must be preregistered and paid in full. The registration fee of $35 must accompany the completed registration form. There is a $5 discount per sibling if registered at the same time. Registration forms are available at most of the area schools or may be obtained by contacting Brisbin at 217-732-3168, ext. 2227, or fax 217-732-4078.
[LCC news release]