A graveside service will be at 11 a.m. Tuesday at Jacksonville Memorial Lawn, Jacksonville.
Mrs. Beavers retired in 1983 from Lincoln Developmental Center, where she had worked since 1967 in the laundry and dietary departments.
She was born Nov. 6, 1929, in Beardstown to Claude and Edith May Blair Shelton. She married Harry L. Beavers on Oct. 29, 1949, in Morris. He preceded her in death in January 1999.
She is survived by two sons, Harry Alan (and Linda) Beavers of Atlanta and William "Bill" (and Sue) Beavers of Beason; two daughters, Alice (and Larry) Steen of Oxford, Ark., and Mary Ann (and Kenneth) Andrews of Mason City; seven grandchildren and five stepgrandchildren; 10 great-grandchildren; and numerous step-great-grandchildren.
She was also preceded in death by one stepdaughter, Norma Jean Beavers Slinker; one stepson, George Robert Beavers; a stepgranddaughter; six brothers, infant Edward, David, Everett, Robert, Donald and Harold; and two infant sisters, Dorothy and Betty.
During their 49 years of marriage, Mrs. Beavers and her husband lived in the Jacksonville, Plainfield, East Moline, Millbrook, Varna, Hartsburg and Mason City areas of Illinois. After their retirement, they also resided near West Plains, Mo., and Horseshoe Bend, Ark.
She was a member of Mason City Christian Church. She also had spiritual associations with Mason City Baptist Church and Prairieland Christian Church at Hartsburg. In the past she had been a member of Emden Christian Church, Literberry Baptist Church and Franklin Baptist Church in Franklin, Ark.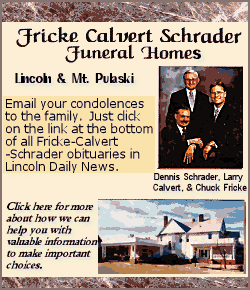 She and her husband had been very active at the Ozark Mountain Music Barn at Salem, Ark., where she served on the board of directors for several years. She was also active as a volunteer for the Mason City Area Food Pantry, CIEDC Meals on Wheels and the Mason City Area Nursing Home.
She enjoyed attending bluegrass, country music and "oldies rock-and-roll" concerts and tending her vegetable garden.
She attended elementary and high school in Beardstown.
A quotation that describes her life is simple: "A mother's heart is always with her children."
Memorials may be made to the Literberry Baptist Church, Literberry; Prairieland Christian Church, Hartsburg; Franklyn Baptist Church, Franklin, Ark.; or the Visiting Nurse Association Hospice Care of Illinois.
Click here to send a note of condolence to the Beavers family.