---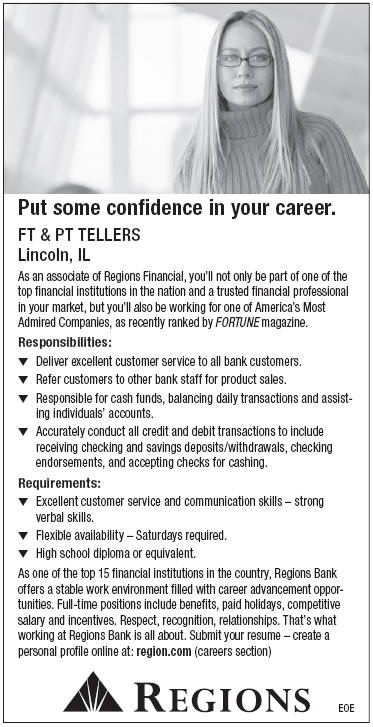 Send a link to a friend
---
NEW STARTING WAGE SCALE! Vonderlieth Living Center is accepting applications for the following positions: RN/LPN: part-time; CNA: 2nd and 3rd shifts, full/part-time; Housekeeper: days, part-time. Apply in person. 1120 N. Topper Drive, Mount Pulaski. Prior applicants need not apply.

Send a link to a friend
---
Nurses and CNAs. 2nd & 3rd shifts. Full and part time. Excellent pay and benefits. Apply in person. St. Clara's Manor, 200 Fifth St., Lincoln, IL.

Send a link to a friend
---
The Lincoln IETC is now taking appointments for HIGH SCHOOL SENIORS who are planning on attending a college or vocational school next fall.
8- to 10-week summer internship job.

Earn up to $3,000.

Internships will be customized for each student.
Families must meet certain financial guidelines in order to qualify. Families receiving public assistance (food stamps) automatically qualify.
Call the Lincoln IETC Center to see if you qualify. Call and set up an appointment now!!
Lincoln IETC
217-735-5441
120 S. McLean St.
(across from the courthouse)
Office hours: 7:30-noon, 1-4 pm
Monday-Friday
IETC is an Equal Opportunity Program

Send a link to a friend
---
Maintenance Technician. $30,000-$50,000. Continental Carbonic Products, Pekin Plant, is currently seeking to fill a position in our Plant Maintenance department. Starting pay dependent on experience. Seeking a multi-talented individual experienced in Hydraulics, Electrical Troubleshooting, and Instrumentation. A good working knowledge of large ammonia refrigeration systems compressors would be desirable. Fabrication, welding and pipe-fitting skills would be a plus. We will offer an attractive compensation program to the right individual. E-mail resume to ccpi@midwest.net or fax: 217-424-2325. Continental Carbonic Products, Inc., 140 Distillery Road, Pekin, IL 61554.

Send a link to a friend
---
Preschool teacher opening: Carroll Catholic School in Lincoln, Ill., is seeking applicants for a half-time preschool teacher for its 3-year-old and 4-year-old programs for the 2007-2008 school year. Applicants must have preschool certification and be practicing Catholics. Please contact Principal John Link at 217-732-7518 to apply or obtain more information.

Send a link to a friend
---

Making a Difference at
The Christian Village
* CNA * FT or PT, 2-10 p.m.
* LPN * FT or PT, all shifts.
Send resumes or apply in person at:
THE CHRISTIAN VILLAGE
1507 Seventh St.
Lincoln, IL 62656
E-mail: careers@christianhomes.org
Another Quality Christian Homes Senior Care Community
www.christianhomes.org
EOE

Send a link to a friend
---
Are you underemployed? Thinking about a new career? Here's your chance to make a change! MWCI, an area leader in machining, welding and tube bending, is seeking highly motivated individuals for second and third shift positions. Openings currently exist for:
CNC Mill or Lathe Operators

CNC Tube Benders

Mig or Tig Welders

Production Machine Operators
Experience preferred, but we are willing to train the right people. In addition to our attractive benefit plan, we offer a competitive hourly rate. Qualified applicants apply at: MWCI, 70 Commerce Dr., Morton, IL or e-mail opportunities1@mortonwelding.com.

Send a link to a friend
---

Exciting opportunities available for energetic, results-oriented individuals. Current contract openings in the areas of:
Java Development Specialist

- Enterprise software solutions in both client and browser-based architectures. Familiarity with JBuilder, Swing, Struts, and Tomcat preferred.

Website Design Specialist

- Custom website design, web application redesign, custom graphics creation, CSS, and Flash development knowledge preferred.
Flexible hours and work environment with an emphasis on high-quality, on-time results await the right technology professionals. E-mail resume and portfolio (if available) to jobs@rtechsolutions.com or via mail to 2637 14th Street, Lincoln, IL 62656.
---