Sustainable beef grazing project opens opportunity for young farmers

Send a link to a friend
[April 30, 2007] URBANA -- A firsthand look at an economical, environmentally friendly way to increase farm income is available on 228 acres of farmland located midway between Pana and Taylorville.
"It's a place where people can come, see for themselves and take home information they can use," explained Ed Ballard, a retired University of Illinois Extension animal systems educator who oversees a cattle grazing project on the U of I's Dudley Smith Farm.

The project utilizes year-round grazing to support about 60 head of beef cattle, explained Dan Faulkner, U of I Extension beef specialist.

"There are several alternative techniques that can increase cattle performance or reduce input costs of forage-based beef production systems," he explained. "But how these technologies affect the total beef production system is not completely understood."
To answer those questions is one goal of the beef grazing project.
Year-round grazing allows producers to reduce feed costs by buying less prepared products and relying more on natural grasses.
"We've got some pretty valuable ground in Illinois and especially on the Dudley Smith Farm," said Ballard. "We can graze year-round on this type of ground and thereby cut down on costs."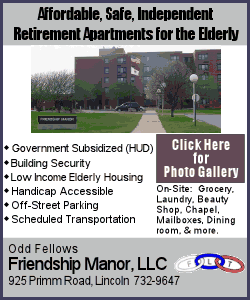 Faulkner believes the project has particular implications for two groups -- farmers looking to increase revenue on their grain farms and younger people looking to enter farming with limited capital.
"Using a year-round grazing system, a young person could enter farming without having to purchase as much equipment," he explained. "It also allows them to operate competitively on a smaller scale and earn enough income to support a family.
"We believe this approach offers real opportunities for smaller producers and allows them to develop niche markets by avoiding hormones and other additives."
Faulkner and Ballard said several field days have been held in the past at the Dudley Smith Farm to demonstrate the year-round grazing program. The next one will be June 14, and details about it can be obtained by contacting the Christian County Extension office at 217-287-7246.
[Text from file received from the University of Illinois Extension]