Some cattle ranchers say those advocating the changes aren't working in the modern era.
Cevin Jones, a feedlot operator in Eden, Idaho, says changing the rules would, for him, be equivalent to "stepping back in time 50 years." He does much of his business with Tyson Foods Inc., one of the biggest packer operations, and he says limiting the period in which he could sell to the company would dramatically hinder his business.
Jones negotiates with the packer companies periodically, selling cattle when they need it and when he wants to unload it. Sometimes these deals are made more than a couple of weeks out.
"When you take options away from me, that limits my ability to be profitable," Jones said.
The House passed its version of the farm bill in July, but that legislation didn't include any major livestock reforms. Those will be left up to the Senate, which is expected to take up the bill this fall.
The Senate passed a ban on packer ownership of cattle as part of debate on the 2002 farm bill, but the provision was dropped in negotiations with the House.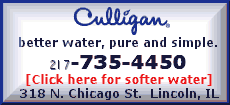 This time, many House Republicans who opposed the ban have left Congress. The Democratic chairman of the House Agriculture Committee, Minnesota Rep. Collin Peterson, has said he is sympathetic to both sides of the issue.
The Democratic chairman of the Senate Agriculture Committee, Iowa Sen. Tom Harkin, has supported a ban on packer ownership.
---
Associated Press Writer Mary Clare Jalonick reported from Washington.