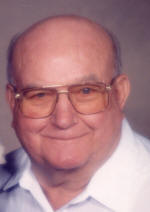 Wilbur Seefeldt

Send a link to a friend
[FEB. 7, 2007] MOUNT PULASKI -- Wilbur Paul Seefeldt, 88, of Mount Pulaski died Jan. 27, 2007, at 7:39 p.m. at Memorial Medical Center in Springfield.
His funeral will be at 1 p.m. Saturday, Feb. 10, at Fricke-Calvert-Schrader Funeral Home in Mount Pulaski, with Bill Shanle officiating. Visitation will be one hour prior to the service.
Burial will be in Lake Bank Cemetery.

Mr. Seefeldt was a farmer and livestock producer in the Mount Pulaski area before he retired.

He was born May 17, 1918, in Hartsburg to William F. and Flora Irene Field Seefeldt. He married Fernola May Reiterman in St. Charles, Mo., on Aug. 6, 1942. She preceded him in death on Nov. 29, 2003

He is survived by two sons, Darrell D. (and Nancy) Seefeldt of Alamosa, Colo., and Richard L. Seefeldt of Mount Pulaski.

He was also preceded in death by two daughters, Jane Ellen and Nancy Ann Seefeldt; two brothers, William R. and Robert B. Seefeldt; and two sisters, Norma Jean Rohscheib and Dorothy Ferry.

He was a member of Latham United Methodist Church and Chestnut Men's Club, served as Republican precinct committeeman in Lake Fork Township, and was the 1976 Conservationist of the Year in Logan County.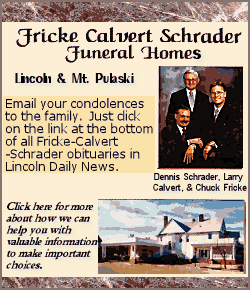 Memorials may be made to Mount Pulaski American Legion 447, Latham United Methodist Church, or Latham Fire and Rescue.
Click here to send a note of condolence to the Seefeldt family.