Lillian Rentmeister

Send a link to a friend
[FEB. 7, 2007] MOUNT PULASKI -- Lillian P. Rentmeister, 80, of Mount Pulaski, formerly of Chestnut, died Tuesday, Feb. 6, 2007, at 10:45 a.m. at St. John's Hospital in Springfield.
Her funeral will be at 1:30 p.m. Friday at Fricke-Calvert-Schrader Funeral Home in Mount Pulaski., with the Rev. Kevin Treptow and Bill Shanle officiating. Visitation will be two hours prior to the service.

Burial will be in Laenna Cemetery, Chestnut.

Mrs. Rentmeister worked in packaging at Lehn and Fink in Lincoln.

She was born Jan. 1, 1927, in Morton Gap, Ky., to Owen and May Embry Pharis. She married James E. Green Jr. in June of 1994.

She is survived by one son, Wilfred O. (and Brenda) Rentmeister Sr. of Mount Pulaski; one daughter, Marilyn (and Thomas) Chandler of Chestnut; two stepsons, Jimmy Green of Refugio, Texas, and Larry Green of Bayside, Texas; four brothers, Ray (and Pat) Pharis of Refugio, Texas, Junior (and Maymie) Pharis of Mount Pulaski, Gerald (and Deb) Pharis of Springfield and Kenneth (and Mary) Pharis of Reinzi, Miss.; three sisters, Helen Frank of Refugio, Texas, Dorothy (and Vernell) Bahn of Mount Pulaski and Mary Louise (and Gene) Mattingly of Atlanta; five grandchildren and two stepgrandchildren; and 15 great-grandchildren and one step-great-grandchild.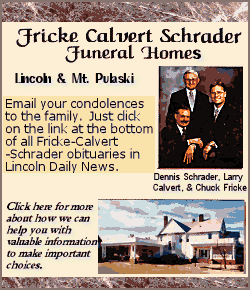 She was preceded in death by her husband and one grandson.
She was a member of Chestnut United Methodist Church.
Memorials may be made to Chestnut Fire Department, Chestnut EMS or Chestnut United Methodist Church.
Click here to send a note of condolence to the Rentmeister family.