Ethelene 'Peggy' White

Send a link to a friend
[FEB. 16, 2007] Ethelene G. "Peggy" White, 85, of Lincoln died Thursday, Feb. 15, 2007, at 11:53 a.m. at her home.
Visitation will be from 2 to 4 p.m. Sunday at Fricke-Calvert-Schrader Funeral Home in Lincoln.
Her funeral will be at 10:30 a.m. Monday at Lincoln Christian Church, with Tim Searby officiating.

Burial will be in Old Union Cemetery.

Mrs. White had been employed at the Yellow Unicorn in Lincoln as a clerk and at the

Lincoln Bottle Factory. She also farmed at New Holland with her husband.

She was born June 6, 1921, in rural Lincoln to Adam Joseph and Ella Mae Rohrer Snyder. She married Wilbur White in Lincoln on June 18, 1939, and he preceded her in death June 6, 1974. She later married Clarence "Red" Mason, and he also preceded her in death.

She is survived by one daughter, Beverly Hinkle of New Holland; four brothers, Melvin "Buck" (and Lois) Snyder of Lincoln, Robert (and Norinda) Snyder of Yelm, Wash., Kenneth "Dutch" (and Myra) Snyder of Lincoln and Clarence "Tony" (and Mary White) Snyder of Metamora; two sisters, Betty Smith and Patricia Snyder, both of Lincoln; four grandchildren; and seven great-grandchildren.

She was also preceded in death by three sisters.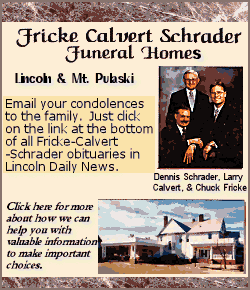 She was a member of Lincoln Christian Church and participated in the New Holland Methodist Bible study.
She was also a member of the Illinois Rabbit Breeders Association, Pygmy Goat Association and Logan County Farm Bureau. She had been a leader of the New Holland Girl Scout troop.
Memorials may be made to the Eminence Christian building fund or to the Harvest of Talents ministry at Lincoln Christian Church.
Click here to send a note of condolence to the White family.