Susie McKown

Send a link to a friend
[February 19, 2007] ATLANTA -- Susie H. McKown, 91, of Lincoln, formerly of Atlanta, died Saturday, Feb. 17, 2007, at 7 a.m. at her home.
Visitation will be from 5 to 7 p.m. Monday at Quiram Peasley Funeral Home in Atlanta and from 9 to 10 a.m. Tuesday at the Atlanta Christian Church. Her funeral will be at 10 a.m. Tuesday at the church, with Maurice Stribling officiating.
Mrs. McKown retired in 1981 from Illinois State University, where she worked in the Special Education Department. She had also worked at State Farm as a secretary, at McKown Hardware Store and at Diamond Shamrock.

She was born March 10, 1915, in Atlanta to Harry and Ottie French Irish. She married Robert D. McKown on Aug. 3, 1940, in Atlanta. He preceded her in death on May 10, 1970.

She is survived by her two daughters, Karen (and Maurice) Irwin of Lincoln and Ann (and Daryl) Houghton of Millsboro, Del.; one brother, Paul (and Jane) Irish of Little Rock, Ark.; five grandchildren, Dave Irwin of Lincoln, Doug Irwin of Lincoln, Tom (and Laura) Irwin of Lincoln, Bobby (and Kim) Houghton of Dublin, Ohio, and Kelly (and Neil) Rogers of Dagsboro, Del.; and five great-grandchildren.

She was also preceded in death by three sisters and one brother.

She was a member of the Atlanta Christian Church, Sisters in Service, Powder Puff Bandits and various bridge clubs in Atlanta.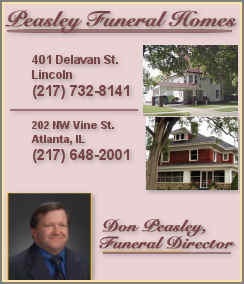 She graduated from Atlanta High School in 1932.
Memorials may be made to Visiting Nurse Association Hospice, 720 N. Bond St., Springfield, IL 62702; Atlanta Christian Church; Atlanta Library; or the donor's choice.
Click here to send a note of condolence to the McKown family.