Redbirds fall short against UNI

Send a link to a friend
[February 26, 2007] CEDAR FALLS, Iowa -- Illinois State's Levi Dyer poured in a team-high 17 points, but his potential game-tying 3-pointer fell short with 20 seconds remaining as the Redbirds fell 71-66 to Northern Iowa in Missouri Valley Conference action at the McLeod Center on Saturday evening.
With the loss, Illinois State finished the regular season with a 15-15 overall record and 6-12 in league play, while Northern Iowa improved to 18-12 on the season and 9-9 in conference action.

At the first media timeout of the first half, the Redbirds held a 7-6 lead with 15:48 on the clock. ISU took its largest lead of the game thanks to a 9-3 run, including four points by Dyer, to give the Redbirds a 16-9 advantage with 10:53 remaining in the half. The Redbirds maintained the lead until the final minute of the first frame, when UNI took a 32-30 lead at the intermission.

The game remained tight at the start of the second half until the 10:14 mark, when head coach Porter Moser was slapped with a technical foul. Travis Brown converted the two free throws for UNI, and on next two possessions Grant Stout added a layup and a 3-pointer to give the Panthers a 49-41 lead with 9:10 left in the game.

Greg Dilligard halted the run with a traditional 3-point play, but back-to-back baskets by Jared Josten and Adam Koch pushed the UNI lead back to 53-44 with 7:48 left. With UNI leading 59-52, Dilligard again finished a traditional 3-point play, when UNI head coach Ben Jacobson was also whistled with a technical foul. Osiris Eldridge sank both foul shots awarded as a result of the technical, and the Redbirds trailed 59-57 with 4:23 remaining.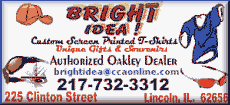 UNI's Brooks McKowen nailed his first points of the game with a pair of free throws at the 1:11 mark, but Dyer's 3-point basket closed the ISU deficit to 65-64 with 50 seconds on the clock. McKowen added two more free throws with 30 seconds left, and Dyer's 3-point attempt bounced off the right of the rim. UNI closed out the game by sinking all eight free-throw attempts in the final 71 minutes.
In addition to Dyer's 17 points, Boo Richardson finished with 14 points and Dilligard added 12.
The Redbirds will return to action on Thursday as the No. 7 seed at the 2007 State Farm Missouri Valley Conference Tournament, when Illinois State takes on Indiana State at 8:30 p.m. at the Scottrade Center.
[Text from file received from Todd Kober, assistant athletics director, media relations, Illinois State University]