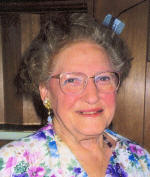 Iona Burwell

Send a link to a friend
[February 27, 2007] Iona D. Burwell, 94, of Lincoln died Monday, Feb. 26, 2007, at 12:05 p.m. at the Christian Village.
Visitation will be from 4 to 7 p.m. Friday at Fricke-Calvert-Schrader Funeral Home in Lincoln, and there will be an Eastern Star service at 6:45 p.m. Her funeral will be at 10 a.m. Saturday at the funeral home, with David Stamerjohn officiating.
Burial will be in Harmony Cemetery, Beason.

Mrs. Burwell was a registered nurse. She worked at Abraham Lincoln Memorial Hospital for many years before she retired and also did private duty nursing.

She was born Feb. 21, 1913, in Secor to Earl and Freida Miller Dixon. She married Kenneth D. Burwell on Jan. 21, 1934, in LeRoy. He preceded her in death on Jan. 5, 1996.

She is survived by one son, Gene (and Karen) Burwell of Lincoln; one daughter, Elaine (and Philip) Butler of Beason; eight grandchildren; 21 great-grandchildren; and six great-great-grandchildren.

She was also preceded in death by one sister and one great-great-grandson.

She was a member of Beason United Methodist Church, United Methodist Women, Eastern Star Order 351, Abraham Lincoln Memorial Hospital Auxiliary, Rural Letter Carriers, American Red Cross, Daughters of the Nile and Order of White Shrine.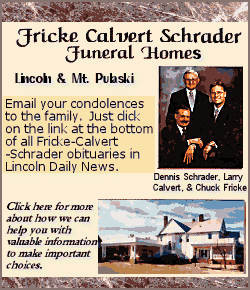 She received her degree in nursing from St. Joseph School of Nursing in Bloomington.
Memorials may be made to Lincoln Masonic Temple or Beason United Methodist Church.
Click here to send a note of condolence to the Burwell family.