Lincoln Daily News
welcomes letters of appreciation, information and opinion on matters pertaining to the community.
As a community we need to be able to talk openly about matters that affect the quality of our lives. The most effective and least offensive manner to get your point across is to stick to the issue and refrain from commenting on another person's opinion. Letters that deviate from focusing on the issue may be rejected or edited and marked as such.
.
You may also send your letters by e-mail to ldneditor@lincolndailynews.com
or by U.S. postal mail:
Letters to the Editor
Lincoln Daily News
601 Keokuk St.
Lincoln, IL 62656
Letters must include the writer's name, telephone number, and postal address or e-mail address (we will not publish address or phone number information). Lincoln Daily News reserves the right to edit letters to reduce their size or to correct obvious errors. Lincoln Daily News reserves the right to reject any letter for any reason. Lincoln Daily News will publish as many acceptable letters as space allows.
[Related letter]

To the editor:

I would just like to make a comment. Years ago in Florida, my mother, (she was from Logan County, Luberta Poffenbarger Knauer) a diabetic, was told she would lose her foot, maybe more, because of complications of diabetes.

I had heard from someone who had a similar situation, and the person had gone through oxygen therapy and it saved her leg (she was also diabetic), so I spoke to my mother's infectious disease doctor, Jack LeFrock (a great doctor in Florida) about the possibility of using the hyperbaric oxygen chamber treatment to try to save her foot. He said he was willing to try it, and it worked.

She had to have valium before, because she was claustrophobic, but not enough to where she couldn't read. She would bring along a book to read.

[to top of second column in this letter]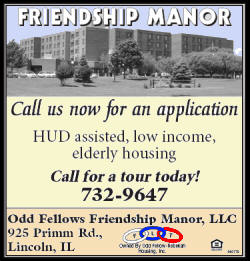 To me, they look like an enlarged version of the cylinder tubes used at the bank drive-throughs.
The diabetes eventually caused her too many health problems to overcome, but when she finally passed away (years later) she never lost so much as a finger or a toe. A lot of people with diabetes lose extremities because of poor circulation. This truly helped save her from any loss.
I just wanted to let you know how it can help with situations like the one my mother went through.
Sheryl Wagoner
Emden
(Posted Jan. 9, 2007)