Emil Shay

Send a link to a friend
[JAN. 19, 2007] Emil T. Shay, 85, of Lincoln died Wednesday, Jan. 17, 2007, at 8:43 p.m. at Maple Ridge Care Centre.
Visitation will be from 5 until 7 p.m. Monday at Peasley Funeral Home, following a prayer service at 4:45.

A Mass of Christian burial will be at 10:30 a.m. Tuesday at Holy Family Catholic Church, with the Rev. R. Anthony Lee officiating.

Burial will be in Camp Butler National Cemetery in Springfield.

Mr. Shay worked for 35 years at Lincoln Development Center as an engineer before he retired in 1982.

He served in the U.S. Navy during World War II.

He was born on Oct. 12, 1921, in Lincoln to Emil T. and Lottie M. Wonsavage Shay. He married Marvel M. Fleussus on April 17, 1943, in Milwaukee, Wis. She preceded him in death on Jan. 12, 1994.

He is survived by his son, John Shay of Boyton Beach, Fla.; his daughter, Maureen Smith of Washington, Mo.; three grandchildren; and seven great-grandchildren.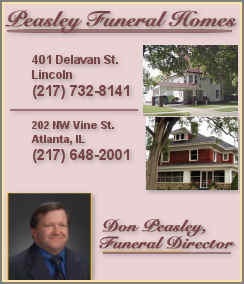 He was a member of Holy Family Catholic Church, a third and fourth degree knight of the Knights of Columbus 1250 and a past grand knight, and a member of American Legion Post 263 and Veterans of Foreign Wars Post 1756.
He was a Lincoln city alderman from 1982 until 1992 as well as a Republican precinct committeeman.
He was a former Boy Scout leader for troops 114 and 107.