Harold Wampler

Send a link to a friend
[JAN. 22, 2007] ELKHART -- Harold W. Wampler, 42, of Elkhart, died Thursday, Jan. 18, 2007, at 7:02 a.m. at his sister's home in Elkhart.
A memorial service will be at 11 a.m. Thursday, Jan. 25, at Elkhart United Methodist Church, with the Rev. Rob Hake officiating.

There will be no visitation.

Burial will be at a later date.

Arrangements are by Fricke-Calvert-Schrader Funeral Home in Lincoln.

Mr. Wampler was co-manager of Dairy Queen in Springfield.

He was born Dec. 25, 1964, in Casper, Wyo., to Harry L. and Anna Strand Wampler. He married Lenora Lynette Mooney on Sept. 28, 1995, in Casper.

He is survived by his wife, of Casper, Wyo.; his mother, Anna Trujillo of Casper, Wyo.; one daughter, Hailie L. Wampler of Casper, Wyo.; one stepdaughter, Crystal Hembree of Casper, Wyo.; one stepson, Patrick Hembree of Buffalo, N.Y.; one sister, Edith (and Bill) Fairchild of Elkhart; one brother, Paul Wampler of Denver, Colo.; and three nieces.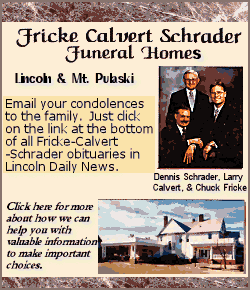 He was preceded in death by his father and grandparents.
He was a member of Elkhart Methodist Church and the Casper Troopers Drum and Bugle Corps.
Memorials may be made to the Harold L. Wampler Fund or the Helping Hands shelter, 200 S. 11th St., Springfield, IL 62703.
Click here to send a note of condolence to the Wampler family.