Harriet Buckley

Send a link to a friend
[JAN. 27, 2007] CHESTNUT -- Harriet E. Buckley, 78, of Chestnut died Thursday, Jan. 25, 2007, at 11:10 p.m. at Memorial Medical Center in Springfield.
Visitation will be from 1 to 4 p.m. Sunday at Fricke-Calvert-Schrader Funeral Home in Mount Pulaski.

Her funeral will be at 10 a.m. Monday at Zion Lutheran Church in Chestnut, with the Rev. Joel Dietrich officiating.

Burial will be in Illini Cemetery, Warrensburg.

Mrs. Buckley was a retired farmer and homemaker.

She was born July 15, 1928, in Lincoln to Edward K. and Adelia Stoll Von Thun. She married Clarence Winkelmann in Chestnut on Feb. 19, 1950, and he preceded her in death on July 13, 1977. She married Jack Buckley in Chestnut on March 23, 1985.

She is survived by her husband, of Chestnut; one son, Louis Winkelmann of Chestnut; four grandchildren and three stepgrandchildren; and six great-grandchildren.

She was also preceded in death by one stepson.

She was a member of Zion Lutheran Church in Chestnut and the Ladies Aid at the church. She was involved with Concordia Seminary, formerly in Springfield.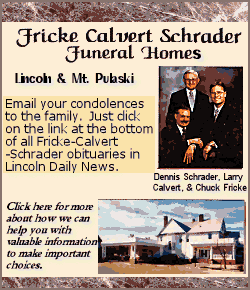 She was a lifetime member of FFA and helped start the 4-H club in Chestnut. She was involved with 4-H activities at the Logan County Fair for many years and was supervisor for ag products and antiques at the Illinois State Fair for 10 years.
Memorials may be made to Chestnut Zion Lutheran Church or the Chestnut EMS.
Click here to send a note of condolence to the Buckley family.