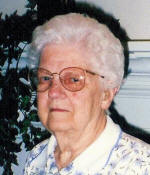 Bernadine Robison

Send a link to a friend
[March 07, 2007] EMDEN -- Bernadine Lorraine Robison, 93, of Emden died Tuesday, March 6, 2007, at 9:40 a.m. at Hopedale Nursing Home in Hopedale.
Her funeral will be at 10:30 a.m. Thursday at Quiram-Peasley Funeral Home in Atlanta, with Maurice Stribling officiating. Visitation will be at the funeral home from 5 to 7 p.m. Wednesday and one hour prior to the service on Thursday.
Burial will be in Bethel Cemetery, rural Emden.
Mrs. Robison and her husband farmed around the Emden area most of their lives. After retiring from farming, she was employed by Lincoln Developmental Center and at Hopedale Medical Complex as a nurse's aide.
She was born Dec. 19, 1913, in Waynesville, to William and Grace Hayen Williams. She married Virgil I. Robison on Nov. 29, 1933. He preceded her in death on April 14, 1989.
She is survived by her two sons, Kenneth (and Alice) Robison of Atlanta and Virgil (and Deloris) Robison of Delavan; two daughters, Virginia (and Chris) Litwiller of Booneville, Mo., and Catherine Bristow of Waynesville; one sister, Sarah Nichols of Hopedale; 13 grandchildren; 17 great-grandchildren; and 16 great-great-grandchildren.
She was also preceded in death by two brothers and two sisters.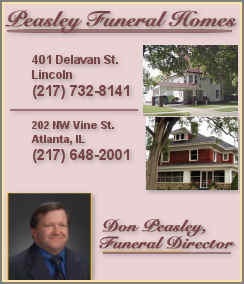 Mrs. Robison was a member of the Emden Methodist Church.
She graduated from Waynesville Township High School in 1933.
Memorials may be made to the Atlanta Christian Church.
Click here to send a note of condolence to the Robison family.