Lincoln Daily News
welcomes letters of appreciation, information and opinion on matters pertaining to the community.
As a community we need to be able to talk openly about matters that affect the quality of our lives. The most effective and least offensive manner to get your point across is to stick to the issue and refrain from commenting on another person's opinion. Letters that deviate from focusing on the issue may be rejected or edited and marked as such.
.
You may also send your letters by e-mail to ldneditor@lincolndailynews.com
or by U.S. postal mail:
Letters to the Editor
Lincoln Daily News
601 Keokuk St.
Lincoln, IL 62656
Letters must include the writer's name, telephone number, and postal address or e-mail address (we will not publish address or phone number information). Lincoln Daily News reserves the right to edit letters to reduce their size or to correct obvious errors. Lincoln Daily News reserves the right to reject any letter for any reason. Lincoln Daily News will publish as many acceptable letters as space allows.
To the editor:

The American Cancer Society Relay For Life of Logan County is scheduled for Saturday, May 19, at Lincoln Christian College and Seminary and Sunday, May 20, at Lincoln College

Relay For Life represents the HOPE that those lost to cancer will never be forgotten, that those who face cancer will be supported, and that one day cancer will be eliminated.

Why? To raise funds to support research, education and patient services in celebration of cancer survivorship in Logan County.

Who? WE NEED:
1. Sponsors. If you can and would like to help underwrite this event, please contact Kathy Blaum at 217-733-9372.

2. Teams. If you would be interested in forming a team or would like to be included on a team, please contact Debbie Cooley at 217-732-7789.

3. Survivors. If you have had cancer or are facing it right now, we would love to honor and encourage you to be a part of our opening ceremony by participating in our free "survivor lunch" and our "survivor laps" that kick off the weekend events. Please contact Susan Gehlbach at 217-732-9281.
[to top of second column in this letter]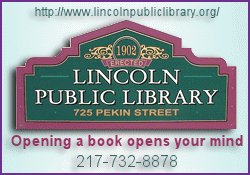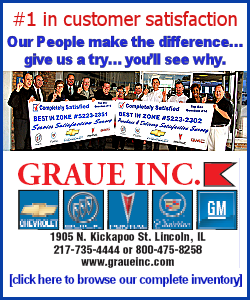 4. Luminarias. Bagged candles light our track and have names of loved ones you may want to honor or remember. Each sack is $10. Please contact Marilyn Armbrust at 217-732-4261 or Bill Post at 217-732-7564.

5. Auction items. We host a live auction and a silent auction the day of the event. If you can help donate items, please call Dennis Cooley at 217-732-7789.

6. YOU. Whether you can help in any of the above areas or not, we would love to have you come alongside us to remember those lost to cancer and celebrate those who have survived, to share comfort and encouragement, and to empower us to accelerate the progress toward a future where cancer doesn't take the lives of our friends and family.

Every dollar raised helps make a difference in this community. Did you know we help provide free rides to doctor appointments for those in Logan County who have cancer treatments?
Please join us. Our next meeting is at Guzzardo's on Monday, and the next meeting is Monday, April 2.
Karen Hargis
Logan County Relay For Life
[Posted March 12, 2007]
Click here to send a note to the editor about this letter.