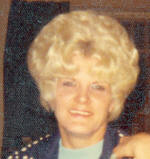 Barbara Parrott

Send a link to a friend
[March 10, 2007] Barbara J. Parrott, 70, of Lincoln died Friday, March 9, 2007, at 7:50 a.m. at Maple Ridge Care Centre.
Her funeral will be at 11 a.m. Tuesday at Fricke-Calvert-Schrader Funeral Home in Lincoln, with Ron Otto officiating. Visitation will be one hour prior to the service.
Burial will be in Zion Cemetery.
Mrs. Parrott was a homemaker.
She was born April 11, 1936, in Columbia, Ky., to George G. and Annie E. Redford Helton. She married Joseph B. Parrott on July 14, 1967, in Lincoln. He preceded her in death on Aug. 15, 1971.
She is survived by four sons, David W. Sutton of Lincoln, Rick L. Sutton of Lincoln, Joseph B. Parrott of Lincoln and Michael L. Parrott of Gulfport, Fla.; five brothers, Carl J. (and Mary) Lingo of Lincoln, Calvin E. Helton of Lincoln, Almon A. (and Sandy) Helton of Lincoln, Paul J. Helton of Menard and Phillip J. Helton of Lincoln; one sister, Janice A. Helton of Lincoln; and three grandchildren.
She was also preceded in death by her parents, two brothers and two sisters.
She was of the Christian faith.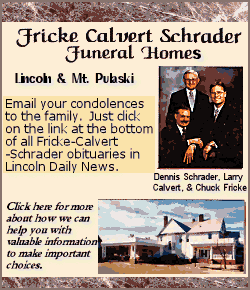 Mrs. Parrott was a beloved mother and grandmother.
Memorials may be made to the family, Lincoln Christian Church or Visiting Nurse Association Hospice Care of Illinois.
Click here to send a note of condolence to the Parrott family.