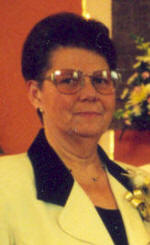 Mary Wibben

Send a link to a friend
[March 12, 2007] HARTSBURG -- Mary Lou Wibben, 67, of Hartsburg died Sunday, March 11, 2007, at 2:45 p.m. at Memorial Hospital in Springfield.
There is no visitation.
Family services will be at a later date, with the Rev. David Russell officiating.
Burial will be in Hartsburg Union Cemetery.

Fricke-Calvert-Schrader Funeral Home in Lincoln is in charge of arrangements.

Mrs. Wibben was a cook at Hartsburg High School and a homemaker.

She was born Oct. 24, 1939, at Hartsburg to John and Goldie Eeten Aper. She married Jon W. Wibben on Feb. 21, 1959, at Emden.

She is survived by her husband, of Hartsburg; one son, Robin Wibben of Lincoln; three daughters, Connie (and Jeff) Sherwood of Hartsburg, Tammy Moos of Lincoln and Kimberly (and Bret) Bacon of Lincoln; two brothers, John (and Patty) Aper of Lincoln and Harold Kutz of Elkhart; four sisters, Goldie Joann (and Jerry) Burlingame of Ipava, Ilene (and Harold) Hubbard of Lincoln, Anna Clara (and Bud) Westen of Emden and Johanna Butler of Morton; and six grandchildren.

She was preceded in death by her parents, one brother and one grandson.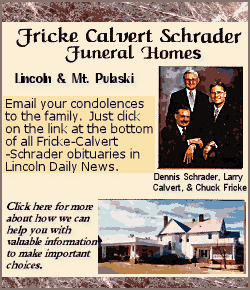 She was a member of St. John's Lutheran Church of Hartsburg and sang in the choir. She also taught Sunday school in Emden.
She participated in the coffee klatch at the firehouse and was a member of REACT and the Antique Tractor and Engine Club.
Memorials may be made to St. John's Lutheran Church or Hartsburg Fire and Rescue.
Click here to send a note of condolence to the Wibben family.