Julia Simpson

Send a link to a friend
[March 14, 2007] Julia A. Simpson, 81, of Las Vegas, Nev., formerly of Lincoln, died Sunday, March 11, 2007, at 8:25 p.m. at Valley Hospital in Las Vegas.
A memorial service will be scheduled at a later date. Arrangements are pending at Fricke-Calvert-Schrader Funeral Home in Lincoln.

Mrs. Simpson was bookkeeper for her husband's heating and sheet metal business in Lincoln before retirement.

She was born Feb. 17, 1926, in South Bend, Ind., to Walter A. and Hilda Neavill Miller. She married Raymond D. Simpson on Dec. 7, 1945. He preceded her in death in 1992.

She is survived by three daughters, Linda (and Rick) Hobbs of Maynard, Mass., Judy (and Greg) Saylor of Gravois Mills, Mo., and Christy (and Mike) Barr of Gurnee; one sister, Dorothy Duncanson of Pekin; one brother, Walter "Bud" (and Sue) Miller of Lincoln; six grandchildren and one stepgrandson; nine great-grandchildren; five nephews; one niece; and several great-nieces and great-nephews.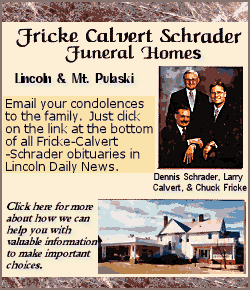 She attended Lincoln Christian Church and was a member of Beta Sigma Phi sorority.
She graduated from Lincoln Community High School in the class of 1944.
Click here to send a note of condolence to the Simpson family.