Sally Roach

Send a link to a friend
[March 20, 2007] SPRINGFIELD -- Sally H. Roach, 65, of Springfield died Monday, March 19, 2007, at 3:39 a.m. at St. John's Hospital.
Visitation will be from 4 to 7 p.m. Thursday at Park Meadows Baptist Church in Lincoln. Her funeral will be at 10 a.m. Friday at the church, with the Rev. S.M. Davis and the Rev. Rodell Bledsoe officiating.

Arrangements are by Fricke-Calvert-Schrader Funeral Home in Lincoln.

Mrs. Roach was a homemaker and minister's wife.

She was born June 4, 1941, in Cleveland, Ohio, to Hewlett and Ethel Hredengar Downey. She married Alvin Duane Roach on June 10, 1972, in Springfield, Mo.

She is survived by her husband, Dr. Duane Roach of Springfield; one son, Robert (and Victoria) Roach of Peoria; one daughter, Sarah Roach of St. Louis, Mo.; two brothers, Robert Downey of Houston, Texas, and Louie Downey of Trinity, Texas; and three sisters, Cathy (and Rodell) Bledsoe of Springfield, Fanny Finney of Orange, Calif., and Ceola Odell of Brevea, Ohio.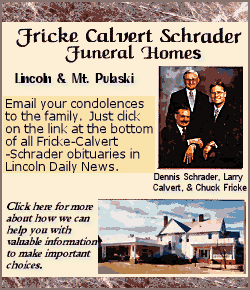 She was preceded in death by two brothers and two sisters.
She was a member of Park Meadows Baptist Church of Lincoln.
Memorials may be made to her church.
Click here to send a note of condolence to the Roach family.