Byron Green

Send a link to a friend
[March 26, 2007] Byron M. Green Jr., 71, of Lincoln died Sunday, March 25, 2007, at 9:16 p.m. at Abraham Lincoln Memorial Hospital.
His funeral will be at 2 p.m. Wednesday at Fricke-Calvert-Schrader Funeral Home in Lincoln. Visitation will be one hour prior to the service, and cremation rites will follow the service.
Mr. Green retired from Mitsubishi in Bloomington, where he was a maintenance electrician.

He served in the U.S. Navy after the Korean War.

He was born Jan. 4, 1936, in Gulfport, Miss., to Byron and Rebecca Panter Green. His first marriage was to Marcene Kruger. He later married Linda Dunham on Feb. 13, 1999, in Chenoa.

He is survived by his wife, of Lincoln; two sons, Kevin Green of Chenoa and Daniel (and Renee) Green of Mahomet; two daughters, Heidi (and Randy) Swatek of Walworth, Wis., and Holly (and Dan) Gordon of Newman, Ga.; three stepsons, Todd (and Christie) Godbey of Clinton, Kenneth Godbey of Lincoln and Dennis Godbey of Lincoln; and 17 grandchildren.

He was preceded in death by his parents and one sister, Doris.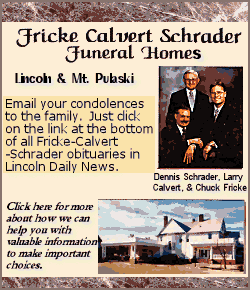 He was a lifetime member of UAW Local 2488, Bloomington.
Memorials may be made to the Byron M. Green Memorial Fund.
Click here to send a note of condolence to the Green family.