Marjorie King

Send a link to a friend
[May 03, 2007] ATLANTA -- Marjorie Satterfield King, 96 years young, died Tuesday, May 1, 2007, at 11:05 a.m. at Heritage Manor in Mendota after a short illness.
Graveside services in the Atlanta Cemetery will be private.

Quiram Peasley Funeral Home in Atlanta is in charge of arrangements.

During the Depression, she worked for Shell Petroleum Divisional Office and later the nascent State Farm Insurance Company in Bloomington, where in 1935 she originated the design of three interlocking ovals still present in the modern trademark.

She was born April 11, 1911, the eldest daughter of Fred and Etta Aston Satterfield of Atlanta. She met her future husband, Joseph T. King, in grade school. They were married Sept. 11, 1935, and remained happily wed for 57 years until his death in 1993.

Family members are four children, Jean L. Polley of Mendota, Joseph S. King of Bakersfield, Calif., John F. King of Houston, Texas, and Christofer J. King of Jacksonville, Fla.; her younger sister, Mary L. Higgason of Houston, Texas; 11 eleven grandchildren; and eight great-grandchildren.

Mrs. King was active in numerous civic and philanthropic associations throughout her productive years in the communities where she lived as her husband advanced his Illinois banking career: El Paso, Atlanta, Knoxville and Robinson. She was also a lifelong, proud member of Alpha Delta Pi sorority.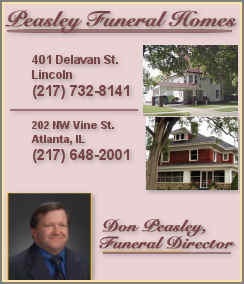 She graduated from Atlanta Community High School in 1929 and attended Florida State University in Tallahassee, Fla.
She was a supporting and loving wife, terrific mother, loyal friend, and enthusiastic traveler who will be sorely missed. "We love you, Mom."
The family requests that in lieu of flowers, memorials be made to the Atlanta Public Library or the J.H. Hawes Grain Elevator Museum.