Erma Huston

Send a link to a friend
[May 08, 2007] MOUNT PULASKI -- Erma L. Huston, 97, of Mount Pulaski died Monday, May 7, 2007, at 3:35 a.m. at Vonderlieth Living Center.
Visitation will be from 10 to 11 a.m. Friday at Fricke-Calvert-Schrader Funeral Home in Mount Pulaski. Her funeral will follow at 11 a.m. at the funeral home, with the Rev. Walter Carlson and the Rev. Kevin Treptow of Mount Pulaski officiating.
Burial will be in Lake Bank Cemetery, Mount Pulaski.
Mrs. Huston co-owned Huston's Apparel in Mount Pulaski and Normal for 25 years, worked for Stahl's Furniture for five years, and was a homemaker.
She was born Oct. 18, 1909, in Logan County to William and Libby Musick Wubben. She married Donald Huston in Lincoln on Nov. 10, 1927, and he preceded her in death on May 28, 1981.
She is survived by two daughters, Donna Traxler of Bloomington and Margaret (and Phillip) Withrow of Dunlap; one sister, Agnes Redfairn of Lincoln; five grandchildren, Diane Withrow, Dr. Mark Withrow, Lynne (and Daryl) Baker, Douglas (and Holly) Traxler and Craig (and Sarah) Traxler; and nine great-grandchildren, Benjamin Paolone, Daniel Traxler, Jackson Traxler, Victoria Traxler, Nicholas Traxler, Nathan Traxler, Olivia Traxler, Brook Sinkinson and Megan Sinkinson.
She was also preceded in death by three brothers and three sisters.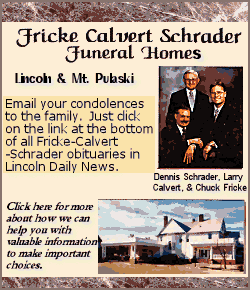 She was a member of Mount Pulaski United Methodist Church, where she had been financial secretary. She was also a member of the United Methodist Women, Woman's Club, Library Club, Garden Club and ABWA.
Memorials may be made to Mount Pulaski United Methodist Church or the donor's choice.
Click here to send a note of condolence to the Huston family.