Roy Lahr

Send a link to a friend
[May 07, 2007] Roy E. Lahr, 76, of Lincoln died Friday, May 4, 2007, at 6:15 p.m. at the Illinois Veterans Home in Quincy.
Visitation will be from noon until 2 p.m. Wednesday at Fricke-Calvert-Schrader Funeral Home in Lincoln. His funeral will follow at 2 p.m. at the funeral home, with Craig Smith officiating.
Burial will be in New Union Cemetery.

Mr. Lahr was a retired lawn care laborer and a U.S. Air Force veteran.

He was born Jan. 26, 1931, in Lincoln to Earl and Elsie Hindman Lahr.

He is survived by one son, Michael Lahr of Windsor; two daughters, Cindy (and Bob) Paoni of Cantrall and Susan Lahr of Springfield; two brothers, Bill Lahr of Lincoln and Francis "Tony" Lahr of Pekin; one sister, Eileen Fulk of Lincoln; eight grandchildren; and three great-grandchildren.

He was preceded in death by his parents; one son, Douglas; one daughter, Mary; three brothers, Bob, Donald and Joe; and three sisters, Mildred Pembrook, Dorothy Piaseczny and Mary Kuhajda.

He was a member of Jefferson Street Christian Church and a charter member of Habitat for Humanity in Lincoln.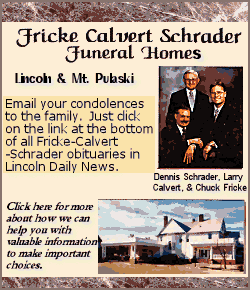 He graduated from Lincoln Community High School in 1951.
Memorials may be made to Habitat for Humanity, Jefferson Street Christian Church or the Logan County Food Pantry in Lincoln.