Rosemary Zimmerman

Send a link to a friend
[May 10, 2007] Rosemary Zimmerman, 90, of Lincoln died Tuesday, May 8, 2007, at 11:59 p.m. at Abraham Lincoln Memorial Hospital.
Visitation will be 5-8 p.m. Friday at Fricke-Calvert-Schrader Funeral Home in Lincoln. Her funeral will be at 10:30 a.m. Saturday at the funeral home, with Tim Searby officiating.
Burial will be in New Union Cemetery.
Mrs. Zimmerman retired as administrative assistant for the Logan County Housing Authority.
She was born Oct. 20, 1906, in Lincoln to Elba Marshall and Iva Suman Taylor. She married Kenneth E. Zimmerman on May 3, 1939, in St. Louis, Mo., and he preceded her in death on Aug. 12, 1976.
She is survived by one son, Dr. Thom J. (and "Tinker") Zimmerman of Louisville, Ky.; three granddaughters, Laura (and Mike) Kavanaugh of Emden, Christina (and Marty) Clementz of Elkhart and Jessica Day of Greensboro, N.C.; one grandson, John (and Heather) Barrick of Lincoln; nine great-grandchildren; and four great-great-grandchildren.
She was also preceded in death by one son, Robert F. Zimmerman; and two brothers, Robert S. Taylor and Suman "Doc" Taylor.
She was a member of Lincoln Christian Church, Rebekah Lodge of Lincoln, actively worked with the March of Dimes, Salvation Army, Illinois Sheriff's Association, Lincoln Christian Church Harvest of Talents and the Republican Women Association.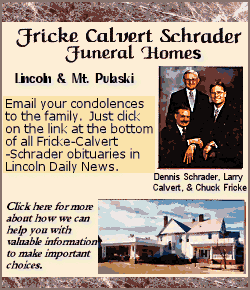 Memorials may be made to the organization of the donor's choice or to the "Rosemary Cares" project. This project will replenish the stuffed animals and comfort-care blankets that Abraham Lincoln Memorial Hospital provides to children and hospice patients. As a tribute to her many years of volunteer service, her family intends to continue this project in her honor.
Click here to send a note of condolence to the Zimmerman family.