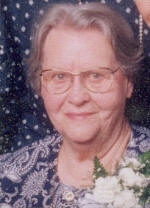 Helen Miller

Send a link to a friend
[May 12, 2007] Helen Marie Miller, 92, of Lincoln died Friday, May 11, 2007, at 9:35 a.m. at her home.
Her funeral will be at 11 a.m. Monday at Fricke-Calvert-Schrader Funeral Home in Lincoln. Visitation will be one hour prior to the service.
Burial will be in New Union Cemetery.

Mrs. Miller farmed with her husband in the Broadwell and Middletown area for many years. She also worked for Stetson China Company, in the kitchen at Lincoln Developmental Center and in quality control at Lincoln Bottle Company.

She was born Dec. 11, 1914, in rural Lawndale to John and Matilda Boehm Loercher. She married Irwin A. Miller on July 26, 1932, in Springfield. He preceded her in death in April 1973.

She is survived by one daughter, Joyce Winch of Rock Falls; a daughter-in-law, Kathy Miller of Lincoln; four grandchildren, Paul Cobane III of Princeton, Scott Cobane of Las Vegas, Nev., Irwin Todd Miller of Collinsville and Nathan Miller of Lincoln; and four great-grandchildren, Carrie Cobane of Walnut, Paul Cobane IV of Dixon, Tiffany Cobane of Bensonville and Natalie Miller of Lincoln.

She was also preceded in death by one son, Irwin Lee Miller; two sisters, Leona (and Ronald) Holloway and Francis (and Clarence) Dobson; and one brother, Richard Loercher.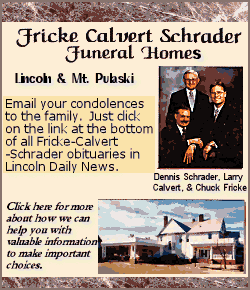 She was confirmed at St. John's Lutheran Church and was a former member of Immanuel Lutheran Church.
She was a major fan of Elvis and was a staunch Democrat.
Memorials may be made to the donor's choice.
Click here to send a note of condolence to the Miller family.