Julia Adams

Send a link to a friend
[May 17, 2007] ATLANTA -- Julia Adams, 66, of Atlanta, died Tuesday, May 15, 2007, at 10:40 a.m. at Abraham Lincoln Memorial Hospital in Lincoln.
Visitation will be noon-2 p.m. Friday at Faith Christian Centre, and her funeral will follow at 2 p.m., with Pastor Troy Voyles officiating.

Burial will be in Atlanta Cemetery.

Arrangements are being handled by Quiram-Peasley Funeral Home in Atlanta.

She was born on May 8, 1941, in Atlanta to Les and Lois Vannoy Jones. She married Jerry W. Adams on Jan. 28, 1961, in Lincoln.

She is survived by her husband; two daughters, LaVonne (and Terry) McCain and Yvonne (and Mark) Fishburn; and two sons, Allen (and Bev) Adams and Kenneth Adams, all of Atlanta. She is also survived by two sisters, Delores Robbins and Charlene Fulk; two brothers, Charles (and Mary) Smith Jr. and Vernon (and Doris) Jones, all of Lincoln; and one brother in Clinton, Harold (and Leona) Jones. She had seven grandchildren and two great-grandchildren.

She was preceded in death by her parents, two brothers and two sisters.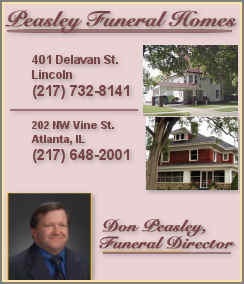 She was a member of Faith Christian Centre in Atlanta.
Memorials may be directed to the Atlanta Rescue Squad.
Click here to send a note of condolence to the Adams family.